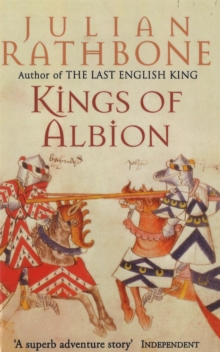 Kings of Albion
Paperback
Description
England, 1460: The War of the Roses. Rival factions - Lancastrians and Yorkists - are hacking each other to death in a conflict that only the English could name after a beautifully-scented flower. It's not an ideal climate for tourists - but three exotic travellers from the Far East are not here for pleasure. They've come to find a missing kinsman. The English, however, are truly strange. Most of the indigenous population are of the cowed peasant variety whilst any noble who can't trace his ancestry to Norman Conquest isn't, really, an awfully nice chap. In between battles of the most astonishing brutality they convey respects instead of affection, make love strangely (and briefly) and amuse themselves by playing a game with an inflated bladder that is in everyway a war except it's called 'footie'. The Indians think they're mad. They also have this horrible suspicion that one day they will rule the world...A wonderfully offbeat take on medieval England at its most brutal and savage, KINGS OF ALBION snatches history, imbues it with the spirit of Rider Haggard and Joseph Conrad, turns it on its head, invites scintillating speculation and, best of all, renders it into a fabulously readable novel.
Information
Format: Paperback
Pages: 384 pages
Publisher: Little, Brown Book Group
Publication Date: 09/12/2000
Category: Historical adventure
ISBN: 9780349113852
Free Home Delivery
on all orders
Pick up orders
from local bookshops
Reviews
Showing 1 - 4 of 4 reviews.
Review by TheoClarke
16/06/2015
Packed with anachronisms that are excused in a witty note prefacing the work, this quasi-historical novel is filled with referential jests woven into a fine tale of a quest through late medieval England during the Wars of the Roses. You should avoid this if you prefer the historical Richard III to the propagandist Tudor version and worry that the Free Spirit heresy was a fiction created by someone other than this author.
Review by emmakendon
16/06/2015
Well, it's a fun romp with some naughty amusing references to Shakespear and even ferrying 'cross the Mersey, but mostly utter nonsense. The stars are for the insight into Bacon, Occam and Wycliffe which is nicely represented.
Review by isabelx
16/06/2015
This novel is different from your average historical novel. Every now and then, a phrase just stops me dead in my track, because it's just not the sort of thing that characters in historical novels usually say! The men from the more civilised east bring their own viewpoint to the description of mediaeval Europe; the piles of sh*t in the street in Calais and the men and dogs urinating and worse in the Earl of Warwick's great hall, are not something that you usually read about. There are three narrators of the story and it is immediately obvious that their voices and preoccupations are very different from each other. Ali's approach on the other hand is by turns mystical and practical, while Harihari is mainly interested in weapons and politics and Uma seems to be trying to turn it from an adventure story into porn (or at least erotica); her approach to the story is very sensual, full of sights, sounds and sex. The events in the story tend to be on the serious side, with lots of battles, executions and torture. The reader's amusement mostly comes from noticing the many references to later historical and cultural events that Julian Rathbone has sneakily inserted into the story, such as recreating scenes from the films "Titanic" and "The Shining". Other references that I noticed were Pils lager & Boddington's Beer, football fans & the 1966 World Cup Final, evolution & the rise of the middle classes, the fire-bombing of Coventry in WWII and the poem Adlestrop by Edward Thomas. The religious elements of the story were fascinating. The cult of the goddess and the linking of the Virgin Mary and old folk beliefs & fertility rites still existing in England to the Indian goddess Parvati/Kali via Uma acting as her avatar, was a counterpart to the heresy of the Brothers of the Free Spirit, which linked non-believers from England to their non-believing counterparts across Europe and the Assassins of the Arab world. They drew characters from far-flung places together, as well as providing a theme that runs throughout the story.I wouldn't have said that I was particularly interested in military history, but the fact that the use of cannons depended heavily on the weather (being impossible to move if the ground was muddy) and the discussions about the problems of fighting in armour and the merits of longbows versus crossbows, were strangely compelling. I had thought Kings of Albion would be fun to read, but it was actually way more interesting than I had expected, catering well to my interest in mediaeval history and mythology.
Review by liehtzu
16/06/2015
A new take on the war of the Roses packed with erudite allusions - you'll need to be on your toes to pick up half them. Also very witty, not too many belly laughs but subtly pokes humour at the evolution of western society's mores, underpinned by a streak of modernistic humanism and nods towards scientific developments we take for granted as being products of the recent western world. As an Englishman gently skewering some of his own race's most treasured memories Rathbone can get away with this; a foreigner wouldn't risk it. I loved the fakir but wold have liked a little more. Great read.