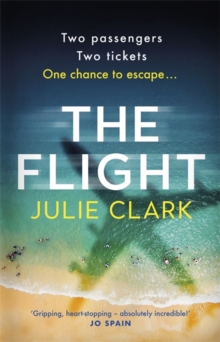 The Flight : Two passengers. Two tickets. One chance to escape.
Hardback
Description
THE NEW YORK TIMES BESTSELLER!'Bristling with suspense and crammed with false clues, it would make a fine Hitchcock film' Daily Mail'I couldn't put it down' has never been more true!
Crying out to be turned into a Netflix series' Prima 'I read it in one sitting ...
The story really drew me in and I was really rooting for both women to escape.
A great beach read. 5 stars' Netgalley reviewClaire and Eva lead very different lives, but they have one thing in common - they are both in huge danger and need to disappear. A chance encounter at the airport presents the two women with a simple but crazy solution: switch places then drop off the grid when they land.
But one woman will never reach her destination. In a smart, tense and twisting narrative that will have you hooked from the first page to the last. Reviews from Netgalley:* 'This wasn't like any book I've read before. (...) It was emotional, page turning, well written, believable, relatable, and every other emotion in between.'* 'Loved this book - was a real page -turner, fast paced well plotted and I was hooked from the start.
I can highly recommend - you won't be disappointed!'* 'Perfect beach read for this summer.
Twists and turns and likeable characters will draw you in.'* 'Fast moving, fully entertaining suspense with well drawn characters and a engaging plot.
Ideal escapism.'* 'Overall, a terrific suspense thriller which is extremely well written, keeps your focus throughout with characters you invest in.
Highly recommended.'
Information
Format: Hardback
Pages: 320 pages
Publisher: Hodder & Stoughton
Publication Date: 25/06/2020
Category: Crime & mystery
ISBN: 9781529384758