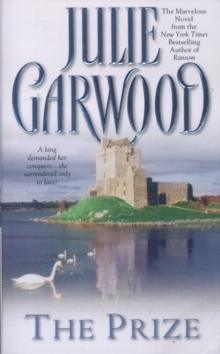 Description
In the resplendence of William the Conquerer's London Court, the lovely Saxon captive Nicholaa was forced to choose a husband from the assembled Norman nobles.
She chose Royce, a baron warrior whose fierce demeanor could not conceal his chivalrous and tender heart.
Resourceful, rebellious and utterly naive, Nicholaa vowed to bend Royce to her will, despite the whirlwind of feelings he aroused in her.
Ferocious in battle, seasoned in passion, Royce was surprised by the depth of his emotion whenever he caressed his charming bride.In a climate of utmost treachery, where Saxons still intrigued against their Norman invaders, Royce and Nicholaa reveled in their precious new love...a fervent bond soon to be disrupted by the call of blood, kin, and country!
Information
Format: Paperback
Pages: 432 pages
Publisher: Simon & Schuster
Publication Date: 01/08/1991
Category: Romance
ISBN: 9780671702519
Free Home Delivery
on all orders
Pick up orders
from local bookshops
Reviews
Showing 1 - 5 of 5 reviews.
Review by cranberrytarts
16/06/2015
After Lori's review, I had to re-read this book. Especially since I didn't during our Garwood Spotlight. <br/><br/>I love Royce and Nicholaa. The story holds up well and the characters are just as wonderful as always. I love the humor in the story, as well as the depth.
Review by winterbutterfly
16/06/2015
This is my favorite book in the entire world and the book that really got me into the romance genre. It's fantastic and the main characters are so well written, you fall in love with them yourself.
Review by blingtastic
16/06/2015
another great garwood medieval romance; witty and poignant story never disappoints; love the emphasis on loyalty, pride and passion. timeless read
Review by dearheart
16/06/2015
I've been doing a reread of some of my favorite books written by the author over twenty years ago. Okay, most of this author's early writings have been reread by me practically every year since their original release. This one has to be included as one of the best.Normandy is invading Saxony and Lady Nicholaa is left alone with the servants and a small contingent of soldiers to protect her family and home. Her brother, Thurston, is leading a rebellion and her younger brother, Justin, lost his hand during the fighting and has given up on life. She's also been saddled with taking care of Thurston's baby. Three contingencies of young soldiers attempt to claim her home and take her before the new king who considers her a prize to be given away to one of his loyal barons. Each is driven away in humiliation. The fourth, Baron Royce, is a trainer of soldiers, and is able to succeed where the others have failed. He's amazed at Nicholaa's cunning and she's not only attracted, but finds he's a very patient and considerate man.The tables are turned when presented to the new king and his wife, Nicholaa saves the life of the queen's niece and instead of being offered as a prize, she gets to pick her husband from the single warriors in the room.Humor abounds throughout the story, although not so much on the fun chaotic level that can be found in some of the other books. The romance is poignant and you'd better have tissues handy. While struggling over the idea that she's attracted to her home's invader, she comes to appreciate how her life is changed. And while Royce is patient, he is rigid in his expectations and schedule. Nicholaa is pure spontaneity in comparison, as well as a strong strategist, generating much of the humor.A great story, interesting characters and situations, told with the author's trademark flare, this book is worth a reread.
Review by Jen7waters
16/06/2015
The Prize, by Julie Garwood, is yet another battle between nations made through a battle of lovebirds type of story (for more on this subject see A Kingdom of Dreams), and this time it all happens during the Norman invasion of England in 1066. The girl, Nicholaa, a fair and stunning Saxon, in charge of her household, land, kin, and who can use a sling like no other; and the man, Royce, a dark and huge Norman Baron, warrior, trainer of men, and who can open a hole in the wall by throwing a bastard at it, will pretty much experience love at first sight when Nicholaa's home is taken over by the Normans with Royce leading the conquest. But that's not all, for he must also bring the woman herself to his King so she can be married off to a Norman knight -this being the exact meaning of a prize. Nicholaa manages to deceive him at first and actually escape, but since apparently she can not run without tripping and ending at the bottom of a ravine (and because Royce runs faster anyway), soon they are on their way to the King's court in London. Terrified to meet her fate, Nicholaa unexpectedly does something the King and Queen will be so thankful for, they reverse the choosing process, granting her the liberty to pick who she wants for a husband, instead of making her The Prize for a bunch of men to fight over. And in a supposed act of revenge for taking her there against her will and ultimately making her go through it all, she picks Royce.Contrary to what it must sound like, there's not a lot of drama envolving the couple's relationship. I say this because, very often medieval historical romances like to drive the reader mad making him think there's no way the couple can get together, either because they're severely proud, hate each other to an extreme, or simply because there's one or more evil characters in the way. In this book, neither of these is a big deal. Are they proud? Yes and no, they obviously are, but put their pride aside when together. Do they hate each other? Yes and no, as Nicholaa says "I don't hate you Royce, but I do dislike you sometimes" . Are there evil characters interfering? Yes and no, because there are a few, but you barely notice.So, in a way, this lack of drama and conflict was a good thing – a nice change from the usual let's-fight-over-every-single-stupid-event, pout for a day or two, and then forget it all with wild, steamy, angry sex (I'm not complaining, just saying), however, for me, this also decreased a bit of the fun that comes with it – watching a stubborn couple going over each other's throats is one of the perks, if not The Perk, of reading historical romances. Other downside to this, was having a sometimes overly submissive and weeping (therefore, annoying) Nicholaa, it's shocking how she doesn't throw breakable things at Royce in a few occasions, as I most certainly would, if I was her. Despite this, I loved her unaffected and trusting nature, Royce's patience and unexpected calmness (even if he's a control FREAK who needs a beating), their many, many, many lovely dialogues, and mostly, the complicity they share almost from the beginning without noticing.In the end, this book reminded me a lot of Susan King's The Swan Maiden, and yes, of Judith's McNaught's A Kingdom of Dreams -there, I said it- which is always a good sign, nevertheless, for me, the romance doesn't have the emotional depth, or memorable lead roles of the first two, neither the crave-for-more wittiness of the second, even if the scene where Nicholaa tries to get Royce drunk, ending up drunk herself instead, is 100% epic.