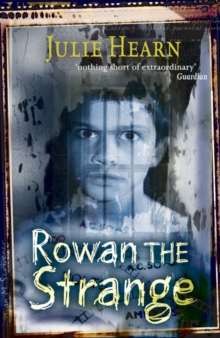 Rowan the Strange
Paperback
Description
How does a doctor examine a person's brain? They won't use any knives on me, will they? Rowan knows he is strange. But dangerous? He didn't mean to scare his sister. In his right mind, he wouldn't hurt a fly. But there's a place he can go where they say they can fix his mind ...Beyond the bars on the window, England is at war.
Behind them, Rowan's own battle is only just beginning. This amazing story gives a thought-provoking look at life in an asylum and the experimental treatments practised at the start of the Second World War. For Rowan, nobody could ever have predicted the effect these treatments would have . .
Information
Format: Paperback
Pages: 352 pages
Publisher: Oxford University Press
Publication Date: 01/04/2010
Category: Historical
ISBN: 9780192729200
Other Formats
Paperback from £9.75
EPUB from £4.54
Free Home Delivery
on all orders
Pick up orders
from local bookshops
Reviews
Showing 1 - 3 of 3 reviews.
Review by CaroTheLibrarian
16/06/2015
PLUS - * A story set at the beginning of World War Two, but an unusual approach to a much covered era. Rowan is being sent away by his family but not as an evacuee. He hears disturbing voices in his head, and after hurting his younger sister during one of his 'panics' he is sent to an asylum to be treated.* There is so much going on in this book. There is the ongoing story of the war and in particulr how it affects Rowans father, scarred by his participation in the previous war. There are interesting issues around the changing treatment of those with mental health issues and learning difficulties (and in the background details of how similar people were being treated by the Nazis). There is a strong theme of overcoming prejudice, not ony against the mentally ill but als through the character of Dr von Metzer the German doctor.* Having said all of that, this is not a 'preachy' book on any of these topics. We are introduced to fascinating characters and they are left to tell the story. MINUS - * It's not a light read, and some younger readers may struggle with the more unusual subject matter. I'll be interested to see what teenagers at my school make of it. OVERALL - * A good adult / teen crossover novel. I hadn't expected to like it (having not enjoyed Hearn's time-travelling first novel) but I really did. I've only just realised that this has two companion novels about Rowan's mother and grandmother and I'll be reading those at some point.
Review by Leov
16/06/2015
I loved the way this book treated people with mental illness with respect, yet gave a great insight into how a person feels when dealing with not only the illness but the medical institution. Set at the beginning of world war II in Britain, Rowan is diagnosed with schizoprenia after several episodes including violent ones. He becomes a bit of a guinea pig for new treatments in electric therapy. He makes friends and becomes somewhat separated emotionally from his family. When the physician treating him suggests Rowan for a role in the Christmas play things go a bit haywire. Eventually Rowan comesright
Review by meggyweg
16/06/2015
The cover and the description for this book are highly misleading; they make it sound like it's going to be some creepy <i>One Flew Over the Cuckoo's Nest</i> type story, or even science fiction. Instead, although the characters and setting is indeed a troubling one -- the patients and staff at a mental hospital in Britain in 1939 -- the story is, in the end, almost heartwarming.There were so many characters to appreciate here. Rowan's family, particularly his eccentric dog-loving grandmother, captivated me. Though stressed and bewildered by his illness, they truly wanted what was best for him. The same for his psychiatrist, Dr. von Metzer, a kind and compassionate doctor whose biggest problem was being German in a very xenophobic Britain. Dorothea was annoying but refreshingly real, and the other patients in Rowan's unit were fully drawn, not just cardboard cutouts like supporting characters often are. Even the bad people in the story weren't evil, just bigoted and selfish.The historical details of the early war -- gas masks, blackout curtains, evacuations of children to the countryside -- were authentic and added color to the story without seeming too didactic. I thought the subplot about Germany's T4 program was very well done.I would recommend <i>Rowan the Strange</i> to junior high schoolers up through adulthood. There's a lot for people to like in this book.