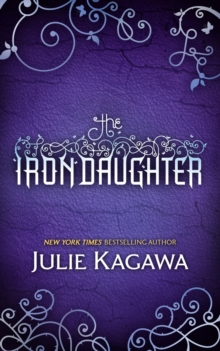 The Iron Daughter
Paperback
Description
Half Summer faery princess, half human, Meghan has never fit in anywhereDeserted by the Winter prince she thought loved her, she is prisoner to the Winter faery queen.
As war looms between Summer and Winter, Meghan knows that the real danger comes from the Iron fey-ironbound faeries that only she and her absent prince have seen.
But no one believes her. Worse, Meghan's own fey powers have been cut off. She's stuck in Faery with only her wits for help. Trusting anyone would be foolish. Trusting a seeming traitor could be deadly.But even as she grows a backbone of iron, Meghan can't help but hear the whispers of longing in her all-too-human heart`Katniss Everdeen better watch out.'- Huffington Post onT he Immortal Rules'Julie Kagawa is one killer storyteller.'-MTV.
Information
Format: Paperback
Pages: 432 pages
Publisher: Mira Books
Publication Date: 01/04/2011
Category: Fantasy
ISBN: 9780778304463
Free Home Delivery
on all orders
Pick up orders
from local bookshops
Reviews
Showing 1 - 3 of 3 reviews.
Review by lyricaltwin
16/06/2015
Julie Kagawa's Iron Daughter is a book you won't want to put down. Filled with action, romance, suspense, and of course, faeries, this book is a must read for anybody who loves well-written faerie books or books with adventure.
Review by wyvernfriend
16/06/2015
Tir na Nog still rankles. It's hard for me to get past this sometimes, it's like fingernails on a blackboard, jars me out of the story and gets my hackles up.Apart from that it's an interesting story. Meghan is in the court of the Winter Queen and her faerie ability is locked away from her. Ash is spurning her and the wand of power is stolen. Her life is a mess and she has to do something about it all before war breaks out. It's interesting, The story is taking some interesting twists and turns and playing with some of the stories and tropes. I'm interested in what happens next.Still I'd love to know why every single YA paranormal has to be measured against Twilight, found the recommendation offputting! No vampires and no were, well some shapeshifting but that's to be expected.
Review by NovaStalker
16/06/2015
Well I'm having a really poor week. First I read Mortal Instruments by Cassandra Clare and now I'm reading this tripe. I know it's not a case of me just not enjoying the genre because I am a romantic but I just can't stand these series where there's supposedly a love triangle but it only lasts as long as it takes for the guy who fills the role of "tortured soul, impossibly perfect and one true love" to show up and have the heroine kick the loyal friend to the curb like so much trash. I knew once Meghan of the Misspelt Name said of Puck that he was "safe, reliable, protective" that this really was just another one of Those books. I think what annoys me most is not that they fall in love INSTANTLY-THE-VERY-SECOND-THEY-LAY-SIGHT-ON-EACH-OTHER or even that they all follow exactly the same narrative trajectory but that the friend guy who loves the heroine always gets treated like utter shit by the heroine. I realise they've not got much to be happy about with the girl they love abandoning their years of commitment to them because some tortured pretty boy saunters by but the heroine continues to use them for all they're worth to her own ends then dumps like they're nothing. To hell with friends, family or the universe as a whole so long as Heroine and Jackass Pretty Boy get to be together.I know, I know this stuff is meant for teenage girls who squee at how romantic it all is and maybe I'm too old, being in my twenties, to understand true love, self sacrifice or responsibility but I honestly think teenage girls deserve better. At the very least they deserve some variety. Why is the best friend romantic option never actually explored except in the most passingly trivial manner to crank up the angst for the real love interest with a nice side of guilt? Why can't realising your soul-mate has been at your side your whole life be an epic romance?I'll continue to read the series because it's not bad enough that I can bring myself to stop but if the next series I read after this, assuming this doesn't get any better and it shows no signs it intends to, is anything like this I may have to kill myself.
Also in the The Iron Fey series | View all