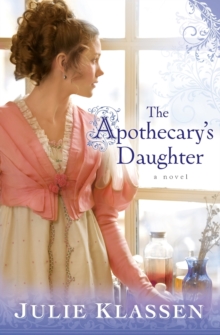 The Apothecary's Daughter
Paperback
Information
Format: Paperback
Pages: 352 pages
Publisher: Baker Publishing Group
Publication Date: 01/01/2009
Category: Religious & spiritual fiction
ISBN: 9780764204807
Free Home Delivery
on all orders
Pick up orders
from local bookshops
Reviews
Showing 1 - 5 of 8 reviews.
Previous | Next
Review by jeffersonsambrosia
16/06/2015
The first thing that comes to mind when I think of this book is wow. The imagery set forth is beautiful and the prose is profound. Julie Klassen weaves a story of emotion, and beauty. Of a young woman just trying to find her way in the world. When we first come upon Lillian Haswell (Lilly) she is a daughter who wishes to do what most daughters do at some time in their life, flee home. But as the daughter of an Apothecary she isn't sure how she will be able to do so. Enter the brother of her long missing mother Rosamond.Lilly is given the chance to go to London and experience a season by her aunt and uncle. They will sponsor her and dress her, and al of the other wonderful things of a fine lady in London. The offer she was waiting for! Lilly takes it and spends two happy years in London, she is flirted with, courted and almost makes several matches. Until that is of course the men find out what her father does. At the end of two years however Lilly is called home to tend to her ill father.We find a great many up's and downs in the story of Lillian and her family. Her father Charles is a kind hearted man with some secrets in his passed, who is ailing and desperately trying to be well enough so he can continue the business. Her brother Charlie is such a loveable character, he is a bit simple, but loving and he tries hard. He finds his love in gardening.While the story has many tender moments that will make you cry I also enjoy some of the funnier. Lily has so many suitors she doesn't know what to do with them. Roger Bromley from London, the next baronet of her town, Roderick Marlow, Mr. Shuttelsworth, Dr.Graves and her father's old apprentice Francis Baylor OH MY! You will not be left bored when reading this book. If you're a woman you will feel Lilly's plight, living in a world where she knows the knowledge, enjoys the work and is good at it. But because she is a woman she is not allowed to practice openly. Because she is a woman she is supposed to rely on men, but they are all leaning on her!The Apothecary's daughter is a coming of age story. You will follow the stories of everyone in the book, but mostly you stay with Lillian. She has heart ache, and confusion and happy moments too. This is a real story, and it sucks you in. You care about the characters, you love them. You begin to wish Lilly could go back to London, or should she stay home? You never know which would be better, not until the very end.
Review by cjsteiner
16/06/2015
I picked this up not knowing that it was Christian fiction but I was pleasantly surprised. There is a fair amount of reference to prayer but the plot and events don't make you feel like you are watching an after school special on religion. The characters are well developed and storyline is intriguing. I recommend this book to CF fans as well as fans of historical fiction or romantic themes. The main character is a bit of a prude but it is to be expected I suppose.
Review by judyg54
16/06/2015
First off, I loved the cover of this book and could picture Lilly Haswell looking like the lady on the cover. Lilly Haswell finds herself growing up working for her father in his apothecary shop and always looking for her mother to come back home to them. Her mother's disappearance has always had the villagers whispering. Lilly longs for travel and adventure, so when her relatives offer her a chance to come to London with them and enter into society and suitors Lilly decides to go. She later has to return to her village to help her father who has become sick and let the apothecary shop get run down. That is the main theme of the story, but there is also the men in the book; Francis, the young boy who learns the apothecary business with the help of Lilly and her Dad, who grows up into quite the handsome gentleman, Dr. Adam Graves, who Lilly meets in London, and Roderick Marlow the wealthy recluse of the town Lilly grew up in. All 3 men play an important part in the life of Lilly and all 3 have a chance to win her heart.What I especially liked about the book was the character Lilly first and foremost, but I got to know so many more people in this story. The author did a great job of letting you experice life in Bedsley Priors. I also appreciated reading a story and not knowing how it will end until I am practically through with the book. There were aspects of each gentleman in this story that I liked and could have seen Lilly end up with, but as the book neared the end, it was obvious who the true gentleman was that would be deserving of Lilly. You will have to read the book I find out who the lucky man is!
Review by rsstick
16/06/2015
The Apothecary's Daughter is an exceptionally well-written Regency novel. The female protagonist, Lilly Haswell, at 18 years is filled with longing for her mother who deserted the family, and for escape from the drudgery of her life in a small village apothecary shop. She has the opportunity to realize some of her dreams for a time, but then must return when her father's health fails.The characters grow and develop in the course of the story. There are several romantic prospects for Lilly, but the reader is kept guessing who "the one" is until the very end. The plot keeps moving with many unexpected twists and turns. The book was entertaining, but also emotionally-moving.
Review by running501
16/06/2015
This novel is like an easy-read-Jane Austen - as the reader follows Lillian Haswell as she enters society, attends dances and parties, and meets suitors. The story also includes much about the medical world at the time and follows her as she helps her father, an apothecary in a growing village.There are a few small twists in the story, and Lilly's suitors kept me guessing until the book neared the end.This was a very easy read that I didn't want to put down. It is interesting to note the many differences in gender roles between the men and women in this book, as well as the ladies of that time versus the modern day woman.