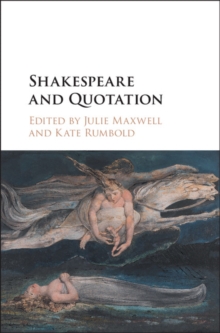 Shakespeare and Quotation
Hardback
Description
Shakespeare is the most frequently quoted English author of all time.
Quotations appear everywhere, from the epigraphs of novels to the mottoes on coffee cups.
But Shakespeare was also a frequent quoter himself - of classical and contemporary literature, of the Bible, of snatches of popular songs and proverbs.
This volume brings together an international team of scholars to trace the rich history of quotation from Shakespeare's own lifetime to the present day.
Exploring a wide range of media, including Romantic poetry, theatre criticism, novels by Jane Austen, Thomas Hardy and Ian McEwan, political oratory, propaganda, advertising, drama, film and digital technology, the chapters draw fresh connections between Shakespeare's own practices of creative reworking and the quotation of his work in new and traditional forms.
Richly illustrated and featuring an Afterword by Margreta de Grazia, the collection tells a new story of the making and remaking of Shakespeare's plays and poems.
Free Home Delivery
on all orders
Pick up orders
from local bookshops