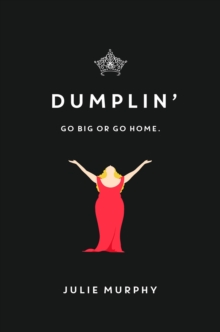 Description
This beloved novel, a #1 New York Times bestseller, will soon be a major motion picture starring Danielle Macdonald and Jennifer Aniston.For fans of John Green and Rainbow Rowell comes this powerful novel with the most fearless heroine-self-proclaimed fat girl Willowdean Dickson-from Julie Murphy, the acclaimed author of Side Effects May Vary.With starry Texas nights, red candy suckers, Dolly Parton songs, and a wildly unforgettable heroine-Dumplin' is guaranteed to steal your heart.Dubbed "Dumplin'" by her former beauty queen mom, Willowdean has always been at home in her own skin.
Her thoughts on having the ultimate bikini body? Put a bikini on your body. With her all-American-beauty best friend, Ellen, by her side, things have always worked . . . until Will takes a job at Harpy's, the local fast-food joint.
There she meets Private School Bo, a hot former jock.
Will isn't surprised to find herself attracted to Bo.
But she is surprised when he seems to like her back. Instead of finding new heights of self-assurance in her relationship with Bo, Will starts to doubt herself.
So she sets out to take back her confidence by doing the most horrifying thing she can imagine: entering the Miss Teen Blue Bonnet Pageant-along with several other unlikely candidates-to show the world that she deserves to be up there as much as any twiggy girl does.Along the way, she'll shock the hell out of Clover City-and maybe herself most of all.
Information
Format: Hardback
Pages: 384 pages
Publisher: HarperCollins Publishers Inc
Publication Date: 15/09/2015
Category: General
ISBN: 9780062327185
Other Formats
Paperback from £7.15
EPUB from £3.99
Free Home Delivery
on all orders
Pick up orders
from local bookshops
Reviews
Showing 1 - 5 of 7 reviews.
Previous | Next
Review by Brainannex
27/08/2015
Willowdean is a big girl and has never had any problems with it. Now, after starting to fall for perfect prep-school Bo, she starts doubting her body and herself. And maybe not even Dolly Parton songs can fix it. A fun, fast, sweet read.
Review by klricer
10/11/2015
East to read, feel good book. Definitely something you want to read. Willowdean's story of overcoming body issues is one that sticks with you, even after you have finished it.
Review by melissarochelle
10/11/2015
Read from July 26 to 28, 2015I can't find the words I need to properly review this, but there are sassy teenagers, Dolly Parton fans & impersonators, underdogs, bullies, a little romance, friendship woes, and so much more. I can see why Disney has already optioned this to be a film -- so much potential here for a wonderfully fun movie. I think the challenge will be casting because not just anyone can play Willowdean -- she's not your typical Hollywood starlet and I hope they stay true to the curvy character she is.
Review by kmartin802
10/11/2015
This fun contemporary novel tells the story of an unlikely beauty pageant entrant. Willowdean Dickson is fat and trying really hard to be okay with herself. Her mom won the pageant when she was a teen and has been the pageant manager for years. Willowdean and her mom are having some adjustment issues now that Willowdean's aunt and her mom's sister has died. Lucy was morbidly obese, housebound and died of a heart attack at age 36. Lucy was also the one who mostly raised Willowdean and fostered her love of Dolly Parton who was an inspiration to both of them. Willowdean is also having some friendship problems as she feels that she is growing away from her best friend El. The two have a fight when they both enter the beauty pageant and don't talk to each other for most of the book. These leaves Willowdean to make new friends with a few of the school misfits. Millie is also overweight but has always dreamed of being in the pageant. Amanda wears a brace on her leg to compensate for uneven leg lengths. Hannah has buck teeth and a bad attitude. All of those three have been tormented at school. But they bond over the pageant and a road trip to see drag queens impersonating Dolly.Willowdean also has boy issues. She works with Bo and starts a summer romance with him which involves lots of secret make-out sessions at the old elementary school. But, when she learns that he has been keeping secrets, she dumps him. She meets Mitch who wants to date her and is a really nice guy but there is no spark between them. When Bo comes back into her life, she's torn between the two boys.I liked the positive message of this book. I liked Willowdean's realization that everyone is teased about something and that no one has the perfect body. I liked the way she changed during the book but feel she still has a ways to go.
Review by DarkFaerieTales
10/11/2015
Review courtesy of Dark Faerie TalesQuick & Dirty: Not only does Murphy write a strong character, but a heroine for everyone to look up to.Opening Sentence: All the best things in my life have started with a Dolly Parton song.The Review:When I first heard about Dumplin' by Julie Murphy, there was a lot of positive buzz around the book blogosphere. I've never read anything like Dumplin's synopsis. It sounded amazing, and I was intrigued. Dumplin' had all of this potential in my eyes, that it made me hesitant. Then I read Dumplin'. And wow! The hype was correct, and well deserved. Never have I connected to a story, or anyone, in such a deep manner.Dumplin' by Julie Murphy is about Willowdean Dickson, a young girl in a small town, where everyone associated her alongside her former beauty queen mom. But Willow doesn't look like the other girls that her momma coaches for the pageants, and she's comfortable enough that she doesn't mind. Willow lives her life, accepting that she may not get the chances that other girls have. So when Private School Bo pays attention to her, it's a surprise to her, and me. Doubt clouds her mind, and she becomes something that she is not – unsure of herself.Usually, the heroine is pretty, or will embark on a journey and become the epitome of beauty. From what I've recently read, the heroine would have long luscious locks of hair, with mesmerizing eyes, and a fit or slender body. But Murphy's Willow is not a part of that norm. And I love that about Dumplin'. Willow is comfortable in her own skin, and has a tenacity that makes her stand out from everyone else. She has a quick wit, a wonderful personality, and understands things that others may not.Murphy created Willow to have a real voice. A voice that represents a larger percentage of the population than everyone realizes. Willow's voice isn't always strong and loud, but it's something that needs to be heard. Everyone has a story, even females who don't normally look like everyone else.Willow's upbringing may not be my own, but I connected to her so deeply. Insecurities and emotions from high school were drudged up, and originally, I wasn't sure what was going on. Reading Murphy's words brought me to this uncanny time warp, and I don't think I've experienced that before.Dumplin' by Julie Murphy is a wonderful read, and Willowdean is a heroine for every one of all ages.Notable Scene:"Bo." His voice was dry, but his lips curled into a smile. "My name's Bo." He took my hand and a flash of memories I'd never made jolted through my head. Us holding hands in a movie. Or walking down the street. Or in a car.Then he let go.That night when I replayed our introductions over and over in my head, I realized that he didn't flinch when I called myself fat.And I liked that.The word fat makes people uncomfortable. But when you see me, the first thing you notice is my body. And my body is fat. It's like how I notice some girls have big boobs or shiny hair or knobby knees. Those things are okay to say. But the word fat, the one that best describes me, makes lips frown and cheeks lose their color.But that's me. I'm fat. It's not a cuss word. It's not an insult. At least it's not when I say it. So I always figure why not get it out of the way?FTC Advisory: Balzer + Bray/HarperCollins provided me with a copy of Dumplin'. No goody bags, sponsorships, "material connections," or bribes were exchanged for my review.