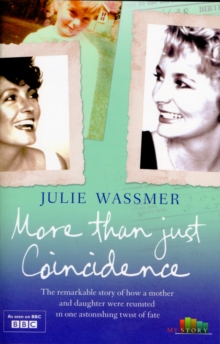 More Than Just Coincidence
Paperback
Description
Heartwarming, compelling and genuinely remarkable, More Than Just Coincidence is the true story of a mother who was reunited with her daughter, twenty years after she gave her up for adoption, in the most incredible of circumstances.One hot summer day in 1970, teenaged Julie dressed her 10-day-old baby daughter for the last time.
Then she placed her newborn into a nurse's arms and walked away, taking with her only a tiny plastic bracelet on which were written two words - 'Baby Wassmer'.Over the next twenty years, the print on the bracelet began to fade, but the memory of Julie's lost child continued to run, like thread, through the fabric of her life.
Julie travelled the world and led an adventurous life, but at the back of her mind always remained the daughter she had let go.On 5 November 1990, a struggling writer, aged 36, Julie stared at the reflection in a mirror on her bathroom wall as she prepared for her first meeting with a literary agent.
All of sudden a thought came into her mind: now might be the perfect time for her daughter to re-enter her life.
A few hours later, in the most astonishing way, two worlds were about to collide.Real life can be stranger than fiction.
Information
Format: Paperback
Pages: 288 pages
Publisher: HarperCollins Publishers
Publication Date: 08/09/2010
Category: True stories
ISBN: 9780007354313
Free Home Delivery
on all orders
Pick up orders
from local bookshops
Reviews
Showing 1 - 1 of 1 reviews.
Review by AdonisGuilfoyle
16/06/2015
Julie Wassmer's story reads like an extended woman's magazine feature, but there is no denying the raw emotion behind the punchy humour and new-age introspection. She made me laugh, she brought tears to my eyes, and the 'coincidence' of the title truly is stranger than fiction, as she repeats throughout.Julie was born into a larger than life family in the East End of London, much like the families on the soap opera she eventually came to write for. In fact, her life is more like a chick lit novel, replete with parent angst, romantic adventures, gay friends, true love - and a teenage pregnancy. After she returned from sailing around the Med with Captain Birdseye to fall straight into a successful writing career, I must admit I was rolling my eyes, but then, that is why I love to read about how exciting the lives of other people can be, after all.The main focus of Julie's story is actually the baby she gave up for adoption, after a mostly secret pregnancy in the late 1960s, and the twist of fate which reunited mother and daughter twenty years later. I read the key facts in a condensed newspaper version of Julie's book, but her telling of how they met is far more powerful, especially after sharing her life story up to that momentous day. Julie and her daughter Sara - called Sarah Louise on her birth certificate - also look amazingly alike, judging from the cover photographs, so it must have been like meeting her own reflection.The build up to the chance reunion, in the office of Julie's agent, is the better part of the book, after that she must have been so overwhelmed with reliving the experience that she rather overeggs the pudding ('Fireworks were still banging and fizzing outside. Or was it fallout from the final, cataclysmic collision of my two worlds?') Still, I was bowled over just by reading her story, so I can only admire her ability to put her thoughts and feelings into words!A heartwarming and fascinating true story.