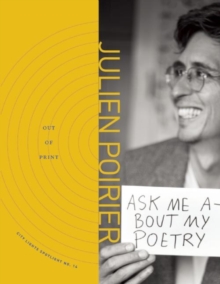 Out of Print : City Lights Spotlight No. 14
Paperback / softback
Description
The third full-length collection by Julien Poirier, Out of Print is a truly bicoastal volume, reflecting the poet's years in New York as well as his return to his Bay Area roots.
Consider it a meetinghouse between late New York School and contemporary California surrealism, a series of quips intercepted from America's underground poetry telegraph, or an absurdist mirror held up to consumerist culture. "Welcome Julien Poirier! What a distinct inspired voice. His work is abundant in surprise. His musical,often bonkers play of language is, for me, a source of delight & revelation."--David Meltzer "Julien Poirier's poems calibrate the vernacular in a sublime mathematics of commonalities.
The effect is that of feelings on the run, enunciated clearly.
In a sudden down-draught-'You're wind, you melt on my tongue'-he'll take the contemporary love poem into new stretches of believability while knowingly calling to account the failings that, whether perennial or merely topical, hem round ourselves to disastrous effect. For, no mistake, Out of Print means business: a forceful wake-up call, allowing as how for this old world the time for meaningful action may well have run out and we've joined the fabled damned, lost but for such eloquence, affection, and mad, mad laughter in Hell's despite."-Bill Berkson "Out of Print's unexpectedly a love poem, its humor sharpening into dissonant pleasure. And what a pleasure! Julien Poirier's weirdly direct and directly weird poems notice what an event is, whether it's four square monks in a Coupe de Ville or becoming the Invisible Hand, and render that event into a sensual and searching landscape.
You are really there, no where, but there, in poetry as a means to think differently, and maybe, absurdly, hope."--Karen Weiser Julien Poirier is the co-founder of Ugly Duckling Presse.
He has taught poetry in New York City and San Francisco public schools and at San Quentin State Prison.
Previous books include Way Too West (2015) and El Golpe Chileno (2010).
Information
Format: Paperback / softback
Pages: 124 pages
Publisher: City Lights Books
Publication Date: 19/04/2016
Category: Poetry by individual poets
ISBN: 9780872867048
Free Home Delivery
on all orders
Pick up orders
from local bookshops