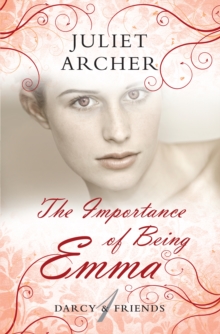 The Importance of Being Emma
Paperback
Description
Mark Knightley - handsome, clever, rich - is used to women falling at his feet.
Except Emma Woodhouse, who's like part of the family - and the furniture.
When their relationship changes dramatically, is it an ending or a new beginning?
Emma's grown into a stunningly attractive young woman, full of ideas for modernising her family business.
Then Mark gets involved and the sparks begin to fly.
It's just like the old days, except that now he's seeing her through totally new eyes.
While Mark struggles to keep his feelings in check, Emma remains immune to the Knightley charm.
She's never forgotten that embarrassing moment when he discovered her teenage crush on him.
He's still pouring scorn on all her projects, especially her beautifully orchestrated campaign to find Mr Right for her ditzy PA. And finally, when the mysterious Flynn Churchill - the man of her dreams - turns up, how could she have eyes for anyone else?
With its clueless heroine and entertaining plot, this modern re-telling of Jane Austen's "Emma" stays true to the original, while giving fresh insights into the mind of its thoroughly updated and irresistible hero.
Information
Format: Paperback
Pages: 416 pages
Publisher: Choc Lit
Publication Date: 15/12/2008
Category: Adult & contemporary romance
ISBN: 9781906931209
Free Home Delivery
on all orders
Pick up orders
from local bookshops
Reviews
Showing 1 - 1 of 1 reviews.
Review by AdonisGuilfoyle
16/06/2015
Two factors made me think twice before buying this book: one, I am a reluctant reader of 'chick lit', and two, <i>Emma</i> is my favourite Jane Austen novel, and I am very protective of the eponymous heroine. Luckily, the second opposition overruled the first, in that I can rarely resist reading continuations and sequels, and I finally gave in and downloaded Juliet Archer's update of Austen's classic. My fears have now been laid to rest - <i>The Importance of Being Emma</i> is a light, funny and romantic story, which succeeds on its own merits, but is also filled with clever injokes for fans of Austen's original. Some of the 'modern' changes are inventive - Emma's painting of Harriet becomes an advertising campaign, and everyone gathers for a meal at the Box Hill Restaurant - and some are rather contrived, including the dialogue (dumbing down Austen is an insult), but the transition from Regency to Chick Lit generally works well.Emma Woodhouse is the marketing director of her father's company, Highbury Foods. A big fish in a small pond, she is confident in her abilities and sure of her future, until her brother-in-law Mark Knightley returns from working in India to take charge of his father's business, Donwell Organics. (The one 'modern' detail I strenuously object to is changing Mr Knightley's name from George to the very plebian <i>Mark</i>. If not influenced by Helen Fielding, who renamed Darcy with the same dull title in <i>Bridget Jones' Diary</i>, then I can only imagine that Miss Archer must be a fan of the 1996 <i>Emma</i> adaptation with Mark Strong.) Knightley - sorry, I can't bring myself to call him Mark - instantly makes Emma feel like a twelve year old with a crush again, and then her father insists that his prodigal son-in-law <i>mentors</i> Emma, which is labouring the point slightly. To make matters worse, Henry's secretary, Mary 'Batty' Bates, manages to wangle her niece 'Saint Jane' Fairfax into the office on placement, after Jane is forced to leave her former position in Weymouth. Confused about her feelings for Knightley and jealous of Jane, Emma's only consolation is the arrival in Highbury of 'Flynn' Churchill (another chick lit name change) from New Zealand.I don't really have to summarise any further, because Juliet Archer sticks respectfully close to the original story. The main changes are in character, behaviour, and language. Emma is seemingly more independent than Austen's heroine, with a MBA from Harvard at the precociously youthful age of 23, and yet somehow very insecure. The real Emma Woodhouse believed in herself to a fault, yet 21st century Emma hides behind her physical and professional talents. 'Mark' Knightley is perhaps the only improvement on the original, but only in that Juliet Archer lets him speak for himself, so the reader witnesses the inner thoughts and feelings beneath his handsome, smart and charming exterior. His love for Emma is deep, tender and awkward, which is just what Austen hints at with Mr Knightley. The tension between Emma and Knightley is also amplified for the modern generation - instead of friendship blossoming into romance and a marriage proposal, we get sexual chemistry leading inevitably to ever increasing physical contact and then the morning after the night before. Knightley has a girlfriend, Emma is not a virgin, and the resolution required is not a declaration of love, but simply direct communication between two dithering fools who need their heads knocking together. The other characters suffer similar disappointments - Harriet Smith (who gets to keep her old-fashioned name) is an Essex girl obviously suited to blokey haulage contractor Rob Martin, but the rather unromantic proposal she receives is only a dirty weekend in Amsterdam, and there is no real reason why Flynn and Jane cannot be together. The social values of Jane Austen's time do not always make sense when transplanted into the liberated and direct interactions of today's culture, so that Juliet Archer's mirroring of the original text occasionally seems forced, like reading a parody.What does work is the humour and romance of Jane Austen's novel, brought up to date - or very nearly so, bar the jokes about IKEA - by venturing beyond the bedroom door. Emma Woodhouse and Mr Knightley never even kiss in the original version - or not so the nineteenth century reader would be offended by their intimacy, anyway - but Juliet Archer's Emma and Knightley are passionately, sensually and unashamedly demonstrative. The climax, pardon the pun, is actually rather sordid, but then there are heart-stopping passages like this:<i>'So I slipped off my shoes. Lay on top of his duvet. Rested my cheek on his pillow. Breathed in his essence. Part Armani, something I could buy anywhere. And part Mark. Unique. Unattainable.'</i>Swoon. Despite the odd culture clash between Austen's time and now - and the fact that Mr Knightley is now called Mark, which is supposed to be an improvement - Juliet Archer's novel is one of the best 'Austenuations' I have read so far. Original, entertaining, and packed full of cleverly disguised nods to the original novel, <i>The Importance of Being Emma</i> will please Austen fans and literary chicks alike.