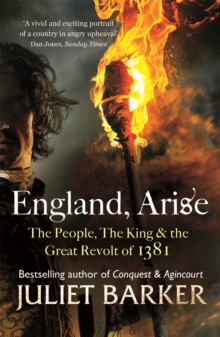 England, Arise : The People, the King and the Great Revolt of 1381
Paperback
Description
The dramatic and shocking events of the Peasants' Revolt of 1381 are to be the backdrop to Juliet Barker's latest book: a snapshot of what everyday life was like for ordinary people living in the middle ages.
The same highly successful techniques she deployed inAgincourt and Conquest will this time be brought to bear on civilian society, from the humblest serf forced to provide slave-labour for his master in the fields, to the prosperous country goodwife brewing, cooking and spinning her distaff and the ambitious burgess expanding his business and his mental horizons in the town. The book will explore how and why such a diverse and unlikely group of ordinary men and women from every corner of England united in armed rebellion against church and state to demand a radical political agenda which, had it been implemented, would have fundamentally transformed English society and anticipated the French Revolution by four hundred years.
The book will not only provide an important reassessment of the revolt itself but will also be an illuminating and original study of English medieval life at the time.
Information
Format: Paperback
Pages: 528 pages, Section: 16, b/w photos
Publisher: Little, Brown Book Group
Publication Date: 03/09/2015
Category: British & Irish history
ISBN: 9780349123820
Free Home Delivery
on all orders
Pick up orders
from local bookshops
Reviews
Showing 1 - 1 of 1 reviews.
Review by jcbrunner
10/11/2015
Juliet Barker is a great writer but her story in this book is mostly finished in the middle of this book. Omitting the second half would have made a stronger title. She shows clearly how the poll tax revolt of 1381 was caused by botched management of raising the necessary taxes, first by squeezing the people not during the harvest season but during the extra lean times in spring and secondly by not allowing tax assessors flexibility and judgment on who would be able to bear the tax. As always with a poll tax, it inflicts great harm on the weakest in society without raising much revenue. A good tax policy targets those that have the money and does not bully those already struggling with life. One puzzling aspect of these peasant and citizen revolts is what outcome they actually expected. Short of declaring independence or selecting a different king, there simply was no scenario in which they could prevail even in the medium run. In fact, the revolt collapsed quickly with the decapitation of the leadership.It is interesting to learn that the famous characters of Wat Tyler, Jack Straw and John Ball owe their popularity to later embellishments and literary treatment. As Barker points out the actual historical sources about them are scarce and provide little backup for the legends (as, for instance, featured recently in a BBC documentary about John Ball by Melvyn Bragg). Contrary to self-perception, the English quite like being subjects and rebellions tend to work only from the top-down.