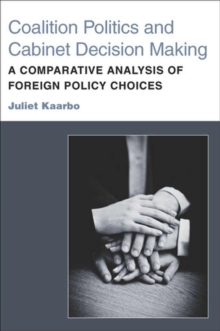 Coalition Politics and Cabinet Decision Making : A Comparative Analysis of Foreign Policy Choices
Paperback / softback
Description
Every day, coalition cabinets make policy decisions critical to international politics.
Juliet Kaarbo examines the dynamics of these multiparty cabinets in parliamentary democracies in order to assess both the quality of coalition decision making and the degree to which coalitions tend to favour peaceful or military solutions.
Are coalition cabinets so riddled by conflict that they cannot make foreign policy effectively, or do the multiple voices represented in the cabinet create more legitimate and imaginative responses to the international system?
Do political and institutional constraints inherent to coalition cabinets lead to nonaggressive policies? Or do institutional and political forces precipitate more belligerent behaviour?Employing theory from security studies and political psychology as well as a combination of quantitative cross-national analyses and twelve qualitative comparative case studies of foreign policy made by coalition cabinets in Japan, the Netherlands, and Turkey, Kaarbo identifies the factors that generate highly aggressive policies, inconsistency, and other policy outcomes.
Her findings have implications not merely for foreign policy but for all types of decision making and policy-making by coalition governments.
Information
Format: Paperback / softback
Pages: 352 pages, 40 tables
Publisher: The University of Michigan Press
Publication Date: 30/08/2013
Category: Constitution: government & the state
ISBN: 9780472035465
Also by Juliet Kaarbo