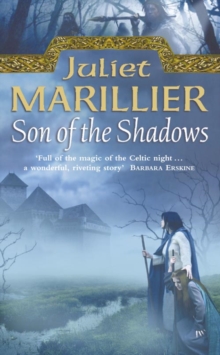 Son of the Shadows : Book 2 of the Sevenwaters Trilogy
Paperback
Description
A powerful and entracing romance, set in the Celtic twilight of 10th century Ireland: a new MISTS OF AVALON for readers of historical fantasy.The forests of Sevenwaters have cast their spell over Sorcha's daughter Liadan, who, like her mother, has inherited the talent to heal and to see into the spirit world.
The forest spirits warn Liadan that she must remain for ever at Sevenwaters if the sacred isles are to be won back from the Britons who took them by force.
For the Lord and Lady of the forest spirits have seen in Liadan's future a doomed romance, death; a child; and a terrible choice to be made.Liadan is taken captive by the Painted Man, who is revealed to be a man quite unlike his legend.
Liadan is drawn to him, despite the ancient prophesy of doom, but can she reclaim her life and defy the spirits, or will a curse fall upon Sevenwaters because of her forbidden love?
Will the fight for the sacred isles end in tragedy? History and fantasy, myth and magic, legend and love come together in this magical story.
Information
Format: Paperback
Pages: 560 pages
Publisher: HarperCollins Publishers
Publication Date: 02/01/2002
Category: Science fiction
ISBN: 9780006486046
Free Home Delivery
on all orders
Pick up orders
from local bookshops
Reviews
Showing 1 - 2 of 2 reviews.
Review by Tropic_of_Cancer
16/06/2015
After I read the first one, I though it would be my favorite of the saga no matter what, but as soon as I read this one, I realized I was wrong. Son of the Shadows is clearly my favorite. I really love the main-characters, specially Liadan. She's such a strong, selfless young woman.
Review by joanasimao
16/06/2015
OK, so a lot of people told me that they loved this one better than the first one "Daughter of the Forest"...but really, even though I really liked this one, the first one felt more fairytale-ish to me. This one follows the same beautiful tale of Sevenwaters and the family that dwells in it, it did feel a little more romanticized and cliched too me.<br/><br/>Just like her mother Liadan is a great female character who stops at nothing to protect her loved ones and the things she believes in.<br/><br/>LOVED Bran. Absolutely exquisite imagery in his construction as a character. LOVED is band of misfits each with it's particularity.<br/><br/>Things that annoyed me: <br/><br/><spoiler><br/><br/>Niamh, for a strong headed girl she sure took a tumble. I guess she drew the short end of the stick, but seriously, why didn't she fought her terrible husband?! A girl so full of life...it just didn't feel right to me.<br/><br/>Ciàran, going all: "oh blood is blood and there's no fighting it", or is there? Marillier kind of left that thread hanging, guess I'll have to read the last one to find out!<br/><br/></spoiler><br/><br/>Connor and his "things will unfold as they must" ohmygod give me a break! You're whole family is in peril! I guess I'm lucky I don't have a druid for an uncle, people that speak in code drive me nuts.