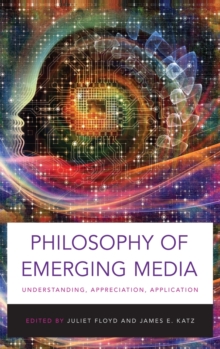 Philosophy of Emerging Media : Understanding, Appreciation, Application
Hardback
Description
The term "emerging media " responds to the "big data " now available as a result of the larger role digital media play in everyday life, as well as the notion of "emergence " that has grown across the architecture of science and technology over the last two decades with increasing imbrication.
The permeation of everyday life by emerging media is evident, ubiquitous, and destined to accelerate.
No longer are images, institutions, social networks, thoughts, acts ofcommunication, emotions and speech-the "media " by means of which we express ourselves in daily life-linked to clearly demarcated, stable entities and contexts. Instead, the loci of meaning within which these occur shift and evolve quickly, emerging in far-reaching ways we are only beginning tolearn and bring about. This volume's purpose is to develop, broaden and spark future philosophical discussion of emerging media and their ways of shaping and reshaping the habitus within which everyday lives are to be understood.
Drawing from the history of philosophy ideas of influential thinkers in the past, intellectual path makers on the contemporary scene offer new philosophical perspectives, laying the groundwork for future work in philosophy and in media studies. On diverse topics such as identity, agency,reality, mentality, time, aesthetics, representation, consciousness, materiality, emergence, and human nature, the questions addressed here consider the extent to which philosophy should or should not take us to be facing a fundamental transformation.
Information
Format: Hardback
Pages: 464 pages
Publisher: Oxford University Press Inc
Publication Date: 10/12/2015
Category: Social & political philosophy
ISBN: 9780190260743