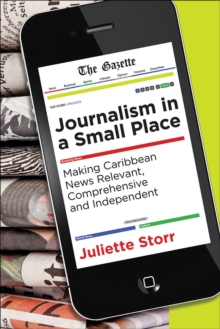 Journalism in a Small Place : Making Caribbean News Relevant, Comprehensive and Independent
Paperback / softback
Description
Journalism in a Small Place explores the changes and challenges in journalism and communication in the Caribbean in the twenty-first century.
Tracing the history of media in the English speaking Caribbean, this book provides insight into the development of these industries from their inception under British imperial rule to their current focus on advancing national development in the post-independence period.
The influence of US media on media content and cultural tastes, and the lingering effects of colonialism on media are also investigated, drawing on globalization theories of hybridity.
Interviews with journalists, editors, and media owners in English speaking Caribbean countries provide firsthand insight into the profession and practice of journalism in the region, highlighting the social and cultural context in which the media industries operate. Additionally, this book describes the current economic success of Caribbean journalism and the factors driving its new trends.
It provides an overview of the current state of Caribbean journalism as it reflects on these questions: What is the purpose of journalism in small Caribbean countries?
What are the challenges of practicing journalism in the Caribbean in the twenty-first century?
What is the future of journalism in the Caribbean? In response, Storr develops a theoretical and practical response to concerns of professional ethics, responsible performance, and the training and education of journalists in the region.
In doing so, Journalism in a Small Place elucidates the impact of journalism and communication on the social, political, economic and cultural aspects of Caribbean people's lived experiences, and journalism's power to promote and effect social change.
Information
Format: Paperback / softback
Pages: 294 pages
Publisher: University of Calgary Press
Publication Date: 30/10/2016
Category: History of the Americas
ISBN: 9781552388495