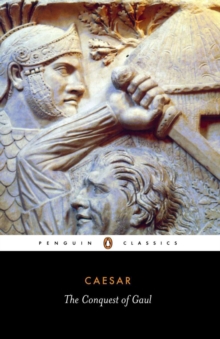 The Conquest of Gaul : Conquest of Gaul
Paperback
Description
Between 58 and 50BC Caesar conquered most of the area now covered by France, Belgium and Switzerland, and twice invaded Britain.
This is the record of his campaigns. Caesar's narrative offers insights into his military strategy & paints a fascinating picture of his encounters with the inhabitant of Gaul and Britain, as well as offering lively portraits of a number of key characters such as the rebel leaders and Gallic chieftains.
This can also be read as a piece of political propaganda, as Caesar sets down his version of events for the Roman public, knowing that he faces civil war on his return to Rome.
Information
Format: Paperback
Pages: 272 pages, maps, glossary, bibliography
Publisher: Penguin Books Ltd
Publication Date: 09/12/1982
Category: Literary essays
ISBN: 9780140444339
Other Formats
Paperback from £6.15
Paperback / softback from £9.36
EPUB from £3.99
Free Home Delivery
on all orders
Pick up orders
from local bookshops
Reviews
Showing 1 - 5 of 5 reviews.
Review by Meggo
16/06/2015
A propaganda work par excellence, this book describes Caesar's conquest of Gaul, along with battles in Germany and Britain. Interesting in its own right, the book is also fascinating for the spin which Caesar puts on actions that are of marginal legality, for example, when he crossed the Rhine, ostensibly to quell a revolt, but probably more about capital - political and financial. Well worth reading with an eye to the political context.
Review by powervich
16/06/2015
I'd like to repeat the usual compliment, because however much it is uttered, it retains truth: Caesar's writing, originally intended as source material for some other writer to make a history, is in itself an amazing display of clear and refreshing prose.
Review by Terpsichoreus
16/06/2015
Nothing better represents Caesar's understanding of how to play upon the hopes and joys of man than the fact that he was able to turn a few hundred pages of troop movements into a thoughtful, engrossing narrative. We read not only Caesar's thoughts and intentions in the work, but also gain an invaluable view of Roman politics. In his own words, Caesar sets the scene for the events which soon overtook the empire and captured the imagination of western literature for thousands of years to come.If the secret to enjoying Tolkien is skipping all the poetry and troop movements, I never thought this reflected poorly on poetry as an art, but I must admit I never realized that there was an art to the military memoir to reflect poorly on. I shall have to do my best to remedy this, though whether there are accounts which equal Caesar's in elegance and focus, I remain in doubt.
Review by RobertP
16/06/2015
Not bad for a two-thousand year dead ambitious dictator.
Review by Kurt.Rocourt
16/06/2015
It's not actually written by Caesar. It more of a third person account of the campaigns throughout Gaul. Although there a quotes credited to Caesar I was disappointed at not actually having his own written words appear the page. It was still good and very informative on how politics and war are so connected. It will serve as an example of early semi-biographical narration but should not be credited as written by Caesar himself.