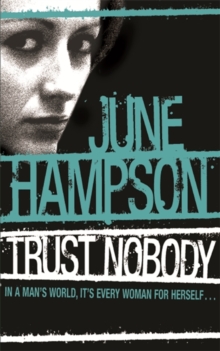 Description
In a man's world it's every woman for herself... The brilliant debut novel from a new star on the Orion list.It is 1962 and Daisy Lane, whose husband Kenny is in jail for robbery, runs and lives over the family's cafe in Gosport with Kenny's older brother Eddie.
Daisy looks out for pretty, vulnerable, 16-year-old Suze, who works in the cafe and, along with prostitute Vera, who also shares the house, the women form a strong and lasting bond.The Lane brothers suffered a violent childhood, but Eddie took the brunt of the beatings.
He has grown into a handsome, resourceful villain with a streak of viciousness that leads him to commit acts of terrifying violence to get his way - and Daisy prefers not to know the details of Eddie's 'business' dealings.But hard man Eddie has an Achilles heel - Daisy.
She resists him, but when her visits to Kenny in jail become more and more difficult, it is Eddie she turns to for support.
Then Eddie pulls a racket too far, venturing on the patch of a villain who is even harder and more territorial than he is.And Daisy discovers the hard way to trust nobody - especially not the man you love...
Information
Format: Paperback
Pages: 384 pages
Publisher: Orion Publishing Co
Publication Date: 01/02/2007
ISBN: 9780752879567
Free Home Delivery
on all orders
Pick up orders
from local bookshops
Reviews
Showing 1 - 1 of 1 reviews.
Review by DeltaQueen50
16/06/2015
Trust Nobody by June Hamson delves into the lives of the wives, girlfriends and prostitutes of the hard men, the street criminals, and scum of the underworld. Set in Portsmouth in the early 1960's, the story revolves around Daisy Lane whose husband Kenny is serving two years in prison. She is trying to make ends meet by running a back street café, although she is not totally alone. Her brother-in-law, the vicious yet charming Eddy is there, and she has her live in friends, aging prostitute Vera and sixteen year old Suze, who ran away from her rapist step-father and now helps Daisy in the cafe.While visiting her husband at the prison, she meets Moira, the attractive wife of a high end London criminal, an assistant to the Kray Twins, and they become friends. Moira, a drug addict, is a very needy person and constantly wants Daisy to come up to London and spend time with her. Being this close to the glamorous yet dangerous life she is shown in London has opened doors for Daisy, but at what price? This book is the first in a trilogy that tells of Daisy's struggles to escape her life of poverty, crime and violence. The author, June Hamson, knows of what she writes as she was born and raised in Gosport, a very poor area of Portsmouth, and her story of Daisy's struggle to steer her own destiny is very much her own which accounts for the believability of the story. I personally enjoyed this gritty tale of the 1960's and plan on continuing on with the trilogy.