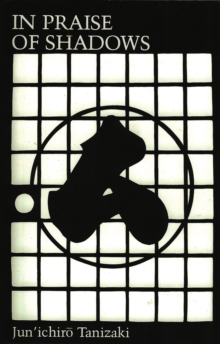 In Praise of Shadows
Paperback
Information
Format: Paperback
Pages: 56 pages
Publisher: Leete's Island Books,U.S.
Publication Date: 01/01/1977
ISBN: 9780918172020
Free Home Delivery
on all orders
Pick up orders
from local bookshops
Reviews
Showing 1 - 5 of 10 reviews.
Previous | Next
Review by hohlwelt
16/06/2015
The book was written in the 1920s and is a very personal critique of modernity (electric light, modern livestyles) changing the traditional Japanese way of life. Interesting is Tanizki poetic sensitivity and his unique observations. The english translations is not very good, whereas the German version captures his style much better. As a result its quite popular with German designers.
Review by claudiadias
16/06/2015
It can be easily said of this essay that it is a set of jottings about the aesthetic power of darkness. The author's writing is like a stream that runs through architecture, takes a turn into gastronomy, goes swiftly by human beauty and ponders on old age, with a turn of prose so compelling that makes you wish you owned minimalistic decorated japanese house and were reading by candle light.The considerations on architecture and decoration can be taken as the oriental counterpart to Bachelard's Poetics of Space, taking the way the lived experience of the space is that which matters for his aesthetics and practical purposes.Tanizaki is a man who can write beautifully about sensuous experiences like sight or taste never losing from sight his theme.But what exactly is the theme? It seems to me to be a mourning of a traditional way of life, or should we say of lighting, that was quickly disappearing. The view that glorifies darkness which makes lacquer and gold stand out or that softens the whites as opposed to artificial light which makes everything glitter and brings the unbearable brightness can also be just a romantic vision of a lost Japan that never existed. But that really isn't an issue if you are aiming to enjoy this book for its sheer beauty and bits of witty humor.*****"It has been said of japanese food that it is a cuisine to be looked at rather than eaten. I would go further and say that it is food to be meditated upon, a kind of silent music evoked by the combination of lacquerware and the light of a candle flickering in the dark."*****This edition is lacking a glossay of unstranslated japanese terms used throughout.
Review by cmbest524
16/06/2015
This was a fascinating and quick read. The author has an interesting viewpoint.
Review by johnxlibris
16/06/2015
Tanizaki discusses the role that darkness plays in the Japanese aesthetic and the jarring realization that light (influenced by Western architecture) forces upon objects and styles created in and meant to be viewed in low-light. Although he recognizes the utility that modern architecture and lighting brings to a room, he laments the loss of "visible darkness." Like the silences of John Cage, darkness is a presence, a tangible object of beauty rather than an absence. His meditation flows from discussions of architecture to women, from calligraphy to history, and from theatre to food.
Review by poetontheone
16/06/2015
Tanizaki's essay on aesthetics is in the Western mind closer to a stream-of-consciousness narrative, exploring a multitude of topics with informed views, some of which might appear as idiosyncratic, such as the meditative value of the toilet or the tone of Japanese skin as an innate cultural defense mechanism. Before reading, I thought this text was going to be analysis of subjects such as ukiyo-e or Tanizaki's literary predecessors, though it is not quite that. It is a broad and almost haphazard series of meditations on everything from lacquerware to Kabuki theatre to how the style of a Japanese house lends itself to the shadows. However, Tanizaki does make a plea for literature and art to preserve the value of shadows and darkness as American aesthetics have, at this time, begun to supplant Japanese tradition. This an elegy more than an essay, and a fascinating one that is marked by Tanizaki's signature cynicism.