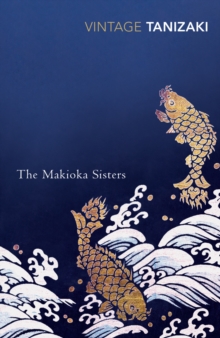 The Makioka Sisters
Paperback
Description
Tanizaki's masterpiece is the story of four sisters, and the declining fortunes of a traditional Japanese family.
It is a loving and nostalgic recreation of the sumptuous, intricate upper-class life of Osaka immediately before World War Two.
With surgical precision, Tanizaki lays bare the sinews of pride, and brings a vanished era to vibrant life.
Information
Format: Paperback
Pages: 576 pages
Publisher: Vintage Publishing
Publication Date: 01/07/1993
ISBN: 9780749397104
Free Home Delivery
on all orders
Pick up orders
from local bookshops
Reviews
Showing 1 - 2 of 2 reviews.
Review by DRFP
16/06/2015
Guh, a novel I had to quit halfway through. I've found Tanizaki's other works quite all right but after I struggled through over 200 pages of <i>The Makioka Sisters</i> I couldn't take any more. It's not so much the fact that the story moves at a glacial pace but the fact that we're told everything: "Yukiko did this, Taeko did that, etc." Never are we allowed underneath the skin of the characters and into their heads to really understand why they did or didn't do anything. It makes the cast about as exciting as a bag of doorknobs.And it's not that I don't like reserved Japanese novels. I love Kawabata's fiction, which is often in that mould. Yet at least his novels all have a lyricism to them that makes them pleasurable to read (it's also an aid that none of them are over 500 pages long like TMS). The translation doesn't help, as it feels particularly leaden at times, but this is simply a boring novel to my mind.I recognise that the world that Tanizaki paints is probably very accurate but the plot is dull, the characters unknowable, and the convenient absence of anything to do with Japan's imperial entanglements a disappointment. I hate giving up on books but I concluded that life is too short to keep slogging my way through this one.
Review by missizicks
16/06/2015
An absorbing insight into the social niceties of early 20th century Japan. The Makioka family has known better times and now, with war looming and austerity taking hold, they are finding it difficult to maintain standards. They are also reaping the consequences of their past aloofness in marriage negotiations in trying to marry off the third sister. The youngest sister is a modern woman, champing at the bit to live an independent life. Second sister Sachiko and her husband Teinosuke do their best to navigate their way through society's expectations and the changing times they live in. I was torn between feeling sympathy for Sachiko's frustrations with her younger sisters and empathy with youngest sister Taeko's nonconformity. The characterisations are beautiful, and I was immersed in the story completely. The ending is a little abrupt, but as I'm not always a fan of neatly tied up finishes, it didn't bother me too much.