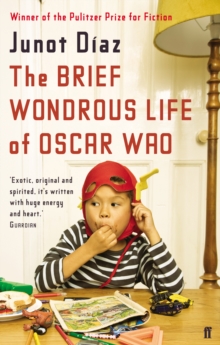 The Brief Wondrous Life of Oscar Wao
Paperback
Description
A ghetto nerd living with his Dominican family in New Jersey, Oscar's sweet but disastrously overweight.
He dreams of becoming the next J. R. R. Tolkien and he keeps falling hopelessly in love. With dazzling energy and insight Diaz immerses us in the tumultuous lives of Oscar; his runaway sister Lola; their beautiful mother Belicia; and in the family's uproarious journey from the Dominican Republic to the US and back. "The Best Novel of the 21st Century to Date." (BBC Culture).
Information
Format: Paperback
Pages: 352 pages
Publisher: Faber & Faber
Publication Date: 05/02/2009
ISBN: 9780571239733
Other Formats
EPUB from £6.39
CD-Audio from £15.45
Free Home Delivery
on all orders
Pick up orders
from local bookshops
Reviews
Showing 1 - 5 of 10 reviews.
Previous | Next
Review by blackhornet
16/06/2015
... or not so brief and not all that wondrous. Sometimes I don't get why a book has received such critical acclaim and this is one of those times. The historical stuff on the Trujillo regime is interesting and well told, but the life of Oscar Wao himself is of absolutely no interest to me as a reader. I wasn't overly impressed with Diaz's debut collection of short stories, 'Drown', which was also highly praised, so should have been warned. Don't get me wrong, it's not a bad book, just not all that good a one either.
Review by dudara
16/06/2015
Diaz won the Pulitzer Prize for Fiction with his first novel, The Brief Wonderous Life of Oscar Wao. The tale centres around a Dominican family who live in New York, but a fair portion of the book is devoted to the family history and the obsession of Dominican people with fukú (curses or bad luck).Oscar is the fat, intense, science-fiction and gaming geek of the family. (In fact the book is peppered with fantasy and sci-fi references.) Given this combination of characteristics, it is no surprise that he is a virgin and easily falls for women. Oscar is doomed to tragedy, just as previous generations of his family were the victims of bad luck and illwill (Hence the continuing thread of fukú in the novel). Diaz does such a wonderful job of presenting the lives of Oscar's family, that Oscar's ultimate end seems somehow fitting to the circumstances of his mother and grandparents.A lot of the book takes place during the era of the Dominican dictator, Rafael Trujillo. Footnotes throughout the text provide context and background to this era. The tone and cyncial humour in which these footnotes are presented is just brilliant. In fact, Diaz's prose throughout the novel is energetic and vitalising. It's been a while since I read a novel written in such a vibrant and snappy manner. It is a fairly unique piece of work.
Review by Wubsy
16/06/2015
I found this increasingly entertaining as I read through it. The historical sections remembering Oscar's mother and grandfather were hauntingly violent, and exposed me to a culture and country that I knew nothing about (much to my shame). I felt that Oscar himself lacked the complexity of Lola, La Inca and the others which I thought was a shame. The coalescing of Spanish and English was very affective, and something I hadn't experienced before. The allusions to Middle Earth were simultaneously hilarious and disturbing, and added another dimension to the book. I thought that the use of explanatory footnotes was a careful touch, instructing the reader when he could quite easily have left them out. All in all a very enjoyable book that was a both informative and exciting.
Review by brianclegg
16/06/2015
A few weeks ago, that consummate YA author M G Harris enthused about The Brief Wondrous Life of Oscar Wao. That was recommendation enough for me, and I ran, rather than walked, to the bookstore to pick up a copy.Having finished the book, I am finding it hard to say how I feel about it.There were a couple of things I didn't like. The text is sprinkled with more Spanish than is helpful if you don't speak any. Sometimes you can guess what it means by context, sometimes you can't. If you're a Spanish speaker, imagine that it was Russian - would you still feel it was acceptable? And it had the sort of downer of an ending that I would have loved aged 20, but these days I tend to avoid, as I prefer to go out with a smile.But with that aside, it was a wonderful reading experience. The footnotes, filling in factual background (I assume it's factual) on the Dominican Republic and its revolution in a chatty fashion, the use of many geeky references, the humour and the pathos - yes it's all brilliant.
Review by TPauSilver
16/06/2015
Wow, is this a book with a lot beneath the surface. The first thing I loved about this novel is how it took a part of the world I know nothing about and made it real to me, made it's history come alive and me understand it. I have to admit that after the first chapter I was feeling a little disenchanted. There's an awful lot in this book about Oscar and whether or not he's going to get sex, which honestly I couldn't care less about. Then it gets wider and stops being a story about Oscar's penis and where he does or doesn't put it and starts being a story about a family and about an entire country's history and character. I love the reality of the characters. I love how it all falls out. There isn't a character in this book you can't believe exists. You may not like them but they're all real, with thier own traits and 'flaws' and languages and everything. I love how the history and politics goes in footnotes, making this predominantly a story about a family with the politics as a background rather then using a family story to illustrate politics. I loved the langauge. The unashamed use of slang and Spanish and, because I'm a horrible geek, I have to admit I did love the refrences. I solid, misleadingly wonderful book. Worth the time to read.