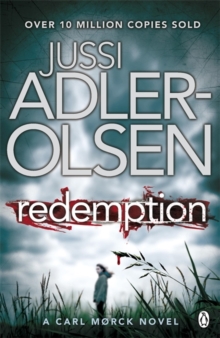 Description
Jussi Adler-Olsen's internationally bestselling Q series returns with Redemption, a gripping treat for all fans of the Scandinavian crime thriller. 'For those suffering withdrawals from The Killing' - The Times Two boys, brothers, wake tied and bound in a boathouse by the sea.
Their kidnapper has gone, but soon he will return. Their bonds are inescapable. But there is a bottle and tar to seal it. Paper and a splinter for writing; blood for ink. A message begging for help . . .Her husband will not tell the truth: where he goes, what he does, how long he will be away.
For days on end she waits and when he returns she must endure his wants, his moods, his threats.
But enough is enough. She will find out the truth, no matter the cost to him - or to herself.In Copenhagen's cold cases division Carl Morck has received a bottle.
It holds an old and decayed message, written in blood.
It is a cry for help from two boys. Is it real? Who are they and why weren't they reported missing?
Can they possibly still be alive?In 2013, the makers of the Stieg Larsson movies and The Killing will bring Jussi Adler-Olsen's Department Q novels, including Mercy, Disgrace and Redemption, to the big screen.Praise for Alder-Olsen:'The new "it" boy of Nordic Noir' The Times'Engrossing' Sunday Express'Adler-Olsen's fascination with abnormal psychology once again pays off' Sunday TimesJussi Adler-Olsen was born in Copenhagen and studied medicine, sociology, politics and film.
He worked as a magazine editor and publisher before starting to write fiction.
So far he has written three Department Q thrillers, which all hit the Danish bestseller lists on publication and stayed there ever since.
Information
Format: Paperback
Pages: 640 pages
Publisher: Penguin Books Ltd
Publication Date: 18/07/2013
Category: Crime & mystery
ISBN: 9780141399997
Other Formats
EPUB from £3.99
eAudiobook MP3 from £9.60
Free Home Delivery
on all orders
Pick up orders
from local bookshops
Reviews
Showing 1 - 4 of 4 reviews.
Review by ElizaJane
16/06/2015
I just love this author and it was with great anticipation that I settled down to read the third installation of Department Q. A fairly typical crime of kidnapped children and religious cults but an added twist brings it up a notch to a level we've come to expect from Jussi A-O. I did find this book lacking just a tad compared to the previous two; it wasn't a page-turner for me as there just didn't seem to be a real sense of the unknown or dramatic time running out. The reader knows the answers to the questions and follows along as the police catch up and discover what is going on. I always felt I knew where things stood with the major crime and it just didn't have that *extra* special thrill for me. However, I did enjoy the story and the book. I'm comparing the third book to the first two. A lot of time and effort is spent on the three main characters, delving into their personal lives and building their characters. Assad has always been mysterious and now he's even more so, only there may be a shadow hanging over him that makes me wary of him now. Carl's character takes major strides in working through his problems with a new psychiatrist, his love life improves and we learn more about that fateful night that changed his life forever. Rose on the other hand gives us a conundrum right from the start which I figured out from the get-go so I was not too fond of that aspect of her character. It could prove interesting in the future, though; I'll certainly be watching where this character goes! So overall, a great story, I really liked it but since I've read the first two, it just didn't quite reach the standard they've already set. Still looking forward to the next volume and hoping for another wicked crime!
Review by ebyrne41
16/06/2015
Having read and enjoyed two previous books by Jussi Adler-Olsen (Mercy, Disgrace) I looked forward to this one with equal glee. Redemption is the third novel in the Department Q series featuring cold case detective Carl Mørck. While Adler-Olsen's books tend to be on the long side (this one runs to 632 pages), I never felt this to be excessively long and I pretty much enjoyed it from start to finish. In fact it is one of those books that builds nicely, culminating in a tense race-against-time-type finish. He is a quality writer and a good storyteller who can comfortably mix suspense, mystery and humour, pleasing the reader on several fronts all at once. The plot here is well thought out and developed, and centers on the disappearance of a number of children over time, the investigation of which is triggered by a message in a bottle washed up on foreign shores. And while you the reader know that the killer is still active, the investigating team do not and for some time are not even sure if a crime has in fact taken place. Being privy to the present day activities of the killer, you wonder when and if the investigating team will ever make the necessary breakthrough and if they will in time to stop the killer adding to the number of his victims. You, meanwhile, will spend a lot of time in the company of the killer, and your fascination with him will grow accordingly, rest assured. Add to the story mix a troubled childhood and religious sects mindful of their privacy and you begin to see how a serial killer is born and can thrive while remaining largely anonymous. Some scenes border on harrowing, the subject matter of harm to children never being an easy one to digest, but the book is thankfully not overly graphic. As the story develops and builds, so does the action and the pace, and I felt it less easy to put the book down the further I progressed. The humour meanwhile, and indeed much of the mystery in the book, concerns the members of the Department Q investigating team, two of whom are civilians but who of themselves are quite mysterious, quirky and colourful characters.Enough said, I can well recommend, so get reading!
Review by shelleyraec
16/06/2015
Though still suffering from bloat (at least 100 hundred pages could easily be cut from it's 635pp length) I enjoyed Redemption more than the previous installment, Disgrace. There is more humour and less overt violence with Department Q head, Detective Carl Mørck and his staff, Assad and Rose, pitted against a chilling sociopath, who has managed to escape notice for more than fifteen years. It begins with a barely legible message in a bottle written in blood which leads the team to a serial killer responsible for the the kidnap, ransom and murder of siblings. The case is complex, with few clues and even less evidence for the cold case team to exploit but slowly they begin to unravel the deadly career of this careful criminal. There is more to the novel than just the case though, the protagonists have lives outside of their careers and who they are is as interesting as what they do. Redemption is an intriguing and compelling novel and I am looking forward to the next title to be translated from this talented Danish crime fiction author.
Review by smik
16/06/2015
Department Q are in the middle of researching arson cases, and looking for connections with more recent examples of arson, when the hand written message in the bottle turns up. Transcribing the message is just the sort of thing that Department Q, and in particular Morck's oddball assistant Rose, and her sister Yrsa, are good at. The more letters that Rose manages to decipher from the note, the more Morck recognises that this is a piteous plea for help.To say that this is a long and rather involved plot is probably an understatement. By the time I'd got about half way through though the length had ceased to matter and I was caught up in the mounting suspense of whether Department Q could locate another more recent pair of victims in time.I missed reading #2 in the series, which meant that I was in the dark about how some circumstances in REDEMPTION had occurred. So my recommendation is that you tackle the books in order (see below), although I think I managed to piece things together pretty well.For some readers there will be too many coincidences (see the review on Reactions to Reading.) and certainly the main plot is rather fantastical, but every now and then it hits the level of the possible, and that is what kept me reading.
Also in the Department Q series | View all