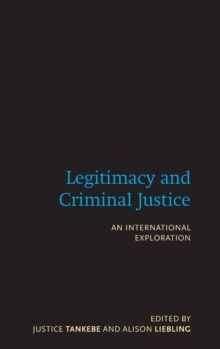 Legitimacy and Criminal Justice : An International Exploration
Hardback
Description
Based on an interdisciplinary conference held at the University of Cambridge in May 2012, Legitimacy and Criminal Justice: An International Exploration brings together internationally renowned scholars from a range of disciplines including criminology, international relations, sociology and political science to examine the meaning of legitimacy and advance its theoretical understanding within the context of criminal justice. In policy terms, the conferenceafforded a timely opportunity for criminal justice senior managers and researchers to discuss the practical applications and implications of legitimacy for policing and prisons.
This resulting volume aims to: advance conceptual understanding of legitimacy in the contexts of policing and criminal justice; todevelop a better understanding of the implications of analyses of legitimacy for the practical contexts of policing, prisons and criminal justice; and to recognise the growing number of contexts in which criminal justice personnel encounter ethnically and religiously diverse communities, such as the acute dilemmas for legitimate authority posed by perceived terrorist threats.
Attention is also devoted to the growing importance of international organisations in relation to legitimacy, both inits international and domestic manifestations.
The volume includes 16 substantial new contributions to this important field from leading political and theoretical scholars in the field, along with the results of several recent empirical studies.
Together they constitute an unprecedented synthesis of disparate but leading thinkers in the growing field of legitimacy scholarship and should be of value to social scientists across different disciplines and to criminal justice practitioners.
Information
Format: Hardback
Pages: 376 pages
Publisher: Oxford University Press
Publication Date: 31/10/2013
Category: Police & security services
ISBN: 9780198701996