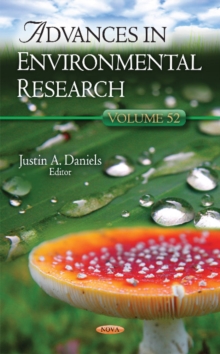 Advances in Environmental Research : Volume 52
Hardback
Description
This book provides readers with the latest developments in environmental research.
Chapter One reviews different toxicological and ecotoxicological tests applied to different types of textile effluent treatments and their efficiency in detecting potential toxicity in treated effluents.
Chapter Two illustrates that in properly leveraging green marketing through sustainability strategic initiatives, a firm can simultaneously become more profitable, promote quality environmental issues, and enhance corporate reputation.
Chapter Three investigates drinking water recarbonization process based on a combination of experimental and mathematical modelling.
Chapter Four discusses improving the management of ecosystem services by means of stakeholder perceptions.
Chapter Five examines community involvement in river management for ecosystem services and livelihood.
Chapter Six focuses on the effect of some environmental factors on milk production of primiparous Holstein raised in the Souss-Massa region in Morocco.
Chapter Seven studies the El Nino-Southern Oscillation (ENSO) influence over precipitation in Argentina.
The final chapter discusses kinematics of ice-cores near divides and inferences from age/depth data.
Free Home Delivery
on all orders
Pick up orders
from local bookshops