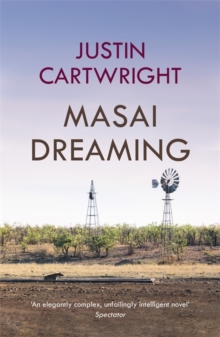 Description
'A provocative novel about a disillusioned writer who travels to Africa to research a screenplay. Cartwright tellingly contrasts the supposed savagery of the dark continent with the very real barbarism of Nazi Germany and the modern world' Esquire 'Ambitious ...the book works well, as a story, as a compendium of reflections on race and nationhood and as a novel with a refined and distinctive narrative voice and one marvellously complete character, the old White Kenyan, Tom Fairfax ...an elegantly complex, unfailingly intelligent novel' Lucy Hughes-Hallett, The Spectator
Information
Format: Paperback
Pages: 304 pages, N/A
Publisher: Hodder & Stoughton General Division
Publication Date: 20/07/2000
ISBN: 9780340768365
Free Home Delivery
on all orders
Pick up orders
from local bookshops
Reviews
Showing 1 - 1 of 1 reviews.
Review by jayne_charles
16/06/2015
I loved the title and the focus on the Masai people, an unusual and educational theme for a novel. When I picked it up I realised there was no synopsis provided anywhere on the cover or on the initial pages; nothing, in fact, to mark it out as a novel. Luckily this is one of those authors I would read irrespective of subject, but in places this did have the feel of a non-fiction book. And accordingly one gets the impression that it might be possible to skip a couple of chapters here and there and still find it useful. It does tend to go backwards and forwards over the same ground. The narrator of the story is trying to write the screenplay for a film based on real events, and we see him research the events, muse over them, discuss them with people who were actually there, and finally draft his scene. The picture is therefore built up layer by layer; I could imagine some readers finding this irritating though I liked it, along with the dense, intelligent, analytical prose.As the novel progresses it becomes clear that it isn't all about the Masai: a good proportion of it is about the Holocaust, and specifically the deportation of Jews from France. An unusual combination of themes and settings but one of the most graphic and hard hitting portrayals of the Holocaust I have encountered in literature.And then there are the sparkling bits of dry wit. I loved the author's description of the colobus monkey as looking "like a conventional monkey dressed up as the chancellor of a university". This is the second of his books that have sent me scuttling off to Google Images in connection with some reference to natural history, and once again his description is spot on.