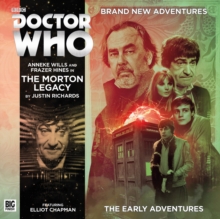 Doctor Who - The Early Adventures 4.3 - The Morton Legacy
CD-Audio
Description
When the TARDIS lands in London, Ben and Polly are initially delighted to be back home... until they realise that they're a hundred years too early.
But this is nothing next to how the Doctor and Jamie feel when the TARDIS itself vanishes!Their attempts to locate their ship lead them to an antiquarian, Josiah Morton, possessed of a most unusual collection that is currently subjected to a legal dispute.
But they're not the only people interested in him. Dangerous criminals watch from the shadows, waiting for a moment to strike. And the police are calling too - accusing him of murder.
An unusual series of deaths have been occurring across the capital, and all signs point to Morton as the culprit.
But is he really a killer? Or is there something else at large in the city? Something... alien? Big Finish have been producing Doctor Who audios since 1999, starring Tom Baker, Peter Davison, Colin Baker, Sylvester McCoy, Paul McGann, David Tennant and John Hurt.
The Early Adventures are a range designed to tell stories in long gone Doctor Who eras, with narration from some of the actors there at the time.
Here Anneke Wills reprises her 1966 role as the Doctor's assistant Polly.
Actor Frazer Hines not only plays his character from the time - the Scottish Highlander Jamie McCrimmon, but delivers a stunning impersonation of the Second Doctor as played by Patrick Troughton.
CAST: Anneke Wills (Polly Wright/Narrator), Frazer Hines (Jamie McCrimmon/The Doctor), Elliot Chapman (Ben Jackson), David Sibley (Josiah Morton), David Sibley (Josiah Morton), Kerry Gooderson(Jemma Morton), Ewan Bailey (Copeland), Alan Blyton (Dexter).
Information
Format: CD-Audio
Publisher: Big Finish Productions Ltd
Publication Date: 31/12/2017
Category: Space opera
ISBN: 9781781789568
Also in the Doctor Who - The Early Adventures series | View all