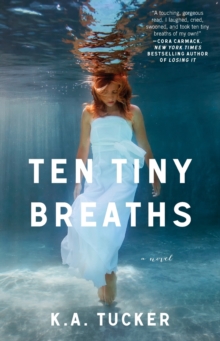 Ten Tiny Breaths : A Novel
Paperback
Description
Just breathe, Kacey. Ten tiny breaths. Seize them. Feel them. Love them. Four years ago Kacey Cleary's life imploded when her car was hit by a drunk driver, killing her parents, boyfriend, and best friend.
Still haunted by memories of being trapped inside, holding her boyfriend's lifeless hand and listening to her mother take her last breath, Kacey wants to leave her past behind.
Armed with two bus tickets, twenty-year-old Kacey and her fifteen-year-old sister, Livie, escape Grand Rapids, Michigan, to start over in Miami.
Struggling to make ends meet, Kacey needs to figure out how to get by.
But Kacey's not worried. She can handle anything-anything but her mysterious neighbour in apartment 1D.
Trent Emerson has smouldering blue eyes, deep dimples, and he perfectly skates that irresistible line between nice guy and bad boy.
Hardened by her tragic past, Kacey is determined to keep everyone at a distance, but their mutual attraction is undeniable and Trent is determined to find a way into Kacey's guarded heart-even if it means that an explosive secret could shatter both their worlds.
Information
Format: Paperback
Pages: 288 pages
Publisher: Atria Books
Publication Date: 24/09/2013
ISBN: 9781476740324
Free Home Delivery
on all orders
Pick up orders
from local bookshops
Reviews
Showing 1 - 5 of 7 reviews.
Previous | Next
Review by A_Reader_of_Fictions
16/06/2015
Don't tell anyone, but I'm a bit of a softie, and part of me really likes romance novels. I know I talk a big game with my rants about how pointless New Adult is a category, and I still don't subscribe to it, but this is the third supposedly NA novel I've read, and the third I've enjoyed. So there's that. Just keep it under your hat, okay?<br/><br/>What makes Ten Tiny Breaths stand out from generic romance novel fodder is Kacey. She's an amazing, engaging heroine, a far cry from the inexperienced, naive girl to be swept off her feet by a hot, brooding man. Instead, Kacey is violent, emotionally distant, and full of sarcasm and rage. Obviously, I related to her immediately. Kacey's closed off most of her emotions, except for anger, due to the death of her parents, a sister, and her boyfriend in a car accident, caused by drunken college students, which left her with just her sister Livie.<br/><br/>At the opening of Ten Tiny Breaths, Kacey and Livie are fleeing their Aunt's house, after her husband behaved inappropriately toward fifteen-year-old Livie. Kacey, 20, is old enough for custody, but her checkered past (drugs, alcohol, one night stands) prevent her from legally wresting guardianship from her Aunt and Uncle, so the two run away to Miami, Florida, where they move into a cheap apartment complex.<br/><br/>At first, this apartment complex appears disgusting and creepy, but it turns out to be just what Kacey and Livie need to slowly open Kacey up and confront her emotional problems. For example, Kacey's next door neighbor is a stripper named Storm and her daughter, Mia. Initially, Kacey judges Storm for her surgically-enhanced physique and profession, but she quickly learns how much more there is to Storm, and Mia and Storm sneak into her heart. I actually liked Kacey's relationships with the secondary characters more than her romantic relationship. It's always a delight when an author takes time to develop secondary characters, and not just the romantic leads.<br/><br/>Of course, there's also a seriously hot dude in the complex, because duh. Trent comes off as a bit of a manicpixiedreamboy for most of the book, though his character does round out as time goes by. The two do lean towards instalove a bit, but it's not too bad, since they're not actually declaring love. I'll just call it crazy levels of attraction and let that slide...mostly. The part that bothered me was how Trent, without doing anything whatsoever, was always immediately able to lower her walls and obtain Kacey's forgiveness. Not having to work for that was what made the whole thing smack of instalove when it really isn't necessarily. For how closed off she is, that didn't make sense to me, no matter how hot he is or how unique his eyes are.<br/><br/>The other detraction of the novel is that I saw the big twist coming a mile away. I totally called it, and that's generally a bit disappointing. On top of that, I felt like the part where Kacey dealt with her mental issues through therapy was rushed. Obviously, this was done since the intended audience is more interested in the romance than psychotherapy, but I would have appreciated a more realistic arc there. What's there is pretty well done, but I wanted more.<br/><br/>Ultimately, I think Ten Tiny Breaths has quite a few weaknesses from a plot perspective, but I rated up, because I was completely sucked into the book from the very beginning. Garnering an emotional connection from me and making me forget that I'm reading deserve a high rating in my book, flaws aside.
Review by AnastaB
16/06/2015
This book truly is amazing. Ten Tiny Breaths is a story of forgiveness and moving on. The story that really captures you. I couldn't stop reading it. What if your whole life comes trembling down? What if you lost the people you love the most....watched them took their last breaths... would you be able to forget? or...forgive? One night Kacey lost her parents, her best friend and her boyfriend in a car crash because of a stupid mistake. A mistake of drunk driving. Her car wasn't the one, if was the car that hit them. Because of that she watched her mother took her last breath while holding her boyfriends cold hand. She was the only one to live...not live but breath. Are you really alive, even if you are breathing? No. She was broken, to herself, she was dead. She only breath because of her little sister, the only thing she has left. Kacey and he little sister, Livie, are out in Florida on a run from their old life in Michigan. But can you really escape your old life? Kacey tries her best to take care of Livie, to help her get best in life, but who will help her? Who will fix her? Who will bring her from under, and not let her drown? Well that is where Trent comes in. A gorgeous, sexy Trent that even makes Kacey lose herself. He is just the one she needs, but will she let him help her? Will she let him in?"Isn't it exhausting?" The pad of his thumb strokes my neck softly. "What?" "Keeping people out." "I'm not," I deny quickly, my voice faltering in betrayal as his words punch me in the gut. How can he see what I don't want him to see, what I work so hard to conceal? He's found a way in, that's how. Like a trespasser, he's invaded my space, breaching security and sliding in to take what I haven't offered to him.I enjoy every moment of reading it, even if it did start out a little bit slow, but I think in this book its just what we needed. The story really develops after Kacey started spending more time with Trent. Those were my favorite moments, their moments. I loved the scenes in the book, I loved the characters. I mean great characters make a great book, and this book was more than great. Kacey is a really strong character, you can really feel her pain while you read the book from her perspective. Her sarcasm was hilarious. That's the other reason I enjoyed this book, not just because of great story line, but also because even though it is a tragic story, there were some really funny moments. "For two years, I haven't given anyone the time of day. Now, here I am, day one into our new life, and I'm ready to straddle this guy on the washer."Trent was also an amazing character! I just loved how mysteries he was, how seductive. "Now that I've come to terms with the fact that the bastard is going to affect me whether I like it or not, he's even hotter than before."The only thing that bothered me about hi, is a stalking... that was a little too much, but overall he was just really really charming in his own way:D I really liked the sexual frustration between Kacey and Trent...ohmg I just couldn't...I couldn't help but read and laugh! Their chemistry definitely is one of my favorite. I couldn't get enough of them! "He leans in closer and closer until his breath caresses my mouth. I'm paralyzed. I swear he's going to kiss me. I swear I'm going to let him."Other characters in a book were too, amazing. I seriously can say that there was no characters that I didn't really like. I liked reading about all of them. Especially Storm and Mia, oh my she was adorable! Overall, I definitely enjoyed this book. The plot was really good, the characters were amazing. There were just little things that bothered me but I can't really say what because it will spoil some things...I would so recommend to read it, if you haven't yet. I say Give it a Shot! "Hope. Hope that something beautiful may come from this tragic story.Fear. Fear that it won't.Forgiveness ... forgiveness."
Review by MVTheBookBabe
16/06/2015
Due to copy and paste, formatting has been lost.Ten Tiny Breaths surprised me in a good way. I had seen this one around, and I'd been keeping it in my sights, but it was one that I wasn't sure I'd ever get to. Turns out that it would of been a mistake if I had never read it, because I really liked it. Kacey was such an amazing character, and I love watching her grow and heal as a character.Her sense of humor was fantastic, and I loved that tough-as-nails exterior that she was putting off, it was great. My favorite part of this book would have to be the character relationships, though. Every one of the secondary characters was well developed and had a purpose...which only made me love them more. I was mostly proud that there was no pointless characters, to tell you the truth. My recent experiences with New Adult have left a bit to be desired, if you catch my drift. I'm glad that this one didn't. It was fantastic.Every page of this was like...I don't know. It was just really good. There were a few predictable scenes, but what is a good book without a feeling of predictability? Personally, I'm a fan of some predictable things, so it was no problem for me. Kacey still remains my favorite part of the book, though.She was her own person, and although she didn't pick the best way to handle her problems, I think that in the end it made her every bit of who she was. I also loved her relationship with Trent. He has several skeletons in his closet too, but he was perfect in almost every way for Kacey. They compliment each other.Just like Storm and Kacey-- Storm makes a fantastic best friend for Kacey. I couldn't help but think that the balance each other out, and I was really surprised by Storm. Though I keep wanting to call her Stormy, and I have no idea why...All in all, Ten Tiny Breaths is worth a read...like a lot. I think that you should give it a chance, because it might surprise you.
Review by Tinasbookreviews
16/06/2015
When Kacey hightails it outta' Michigan, she isn't looking for the next big thing or a chance at a killer career, she only wants to escape her creepy uncle who lately has been taking a liking to her beautiful yet vulnerable younger sister Livie. The two having lived with their Aunt and Uncle since a drunk driving accident claimed the life of their parents really had no choice in the matter when they were sent to them. Old enough now to be Livies legal guardian, and even though she refuses to get it approved by the court, Kacey moves them to Florida and quickly lands a job as a bartender in a strip club. Not her dream come true, but it pays the bills and gets Livie away from Uncle Raymond and off to college in a few years. Is all Kacey needs to do is survive until Livie is able to take care of herself , and as long as the night of her parents death, the accident and the memories of watching them and her boyfriend die stay buried deep within her, she can handle her life and everything that comes with it. While drugs, alcohol and men helped Kacey get through those first few years, abstaining from sex and destructive garbage is her normal these days. To drive off the overwhelming guilt and anger an icy heart and beating a punching bag is really all Kacey depends on.With change and a new environment comes all those pesky things Kacey has been avoiding, like friendship and relationships. Things that she's vowed not to let in her life again, but human nature craves relationship and Kacey needs connections, slowly these new desires begin melting and breaking though her ice fortress. Opening herself up to a little bit of happy is the result of freedom and meeting next door neighbor Storm and her adorable daughter, the friends at the bar who protect her and of course the incredible Trent from apartment 1D.Trent makes Kacey feel things that begin sparking life back into her, happiness seems to be the flavor of life for the moment, so instead of facing those deep rooted pains she lets Trent and the idea of Trent mask who she really is. Trent however knows Kacey has a dark past and wants her face it. He wants fix her, he wants to make things better for her, even if he punishes himself in the process, because fixing Kacey will be like fixing him, a man hiding from his own past, with his own set of emotional problems. While Kacey is up front about the fact that shes messed up, Trent hides it so deeply no one would ever know and the love him and Kacey share is dulling all those feelings of wanting to hide, what he has become perfect at lying about is slowly eating him, each of them is having an opposite reaction to the relationship. Where Kacey is happy, Trent is retreating, where Kacey is anger, Trent is forgiveness, and where the passion explodes around them, guilt and lies want to destroy them. The funny thing about secrets is the fact that they always seem to come out, things done in the dark always find a way to the light and everything is about to fall apart in all the lives surrounding them.I loved Ten Tiny Breaths. I loved the story, I loved the heart break, I LOVED the ENDING!! Kacey's character development was incredible, I was so impressed how Tucker presented this broken character to the reader, from the start we have an angry, bitter young woman, but hidden under her surface layer is a very broken scared girl who never dealt with the loss of her parents and friends in a healthy way. She never truly grieved them, she just buried it, she never had the chance to heal herself or even attempt to forgive the driver who killed them, who himself died in the accident. Her hate consumed her and gave her the energy to face each day, so instead of healing and moving on, anger motivated her, and while it got her to function on a daily basis and take care of her sister, it turned her into a person unrecognizable to her family. Along with Kacey, the side characters in this were amazing, they each had serious potential to carry the story, Livie and Storm brought great family and friendship perspective. Trent was a perfect counter part that brought more dimension to Kacey, and while I wished I could of seen into his mind the story worked fantastically by keeping him an inch away from the reader.While I figured things out long before the big reveal, it was still a twisty, emotional read that packed a few tear worthy scenes. Tucker did an amazing job at making everything I was hoping for no matter how unconventional it was come true.I would highly recommend this to lovers of contemporary romance, new adult fiction, and lovers of twisted relationships that deserve happily ever afters.
Review by JRCook1
16/06/2015
A fantastic story of being loved even when you don't think that you can love or be loved. What an exceptional way to bring a light to the aftermath of drunk driving! A beautifully written story, even though highlighting the pain and tragedy that comes along with such a hot button topic. To watch healing happen even if it is the last step is amazing! I have to say did an awesome job with this book!
Also in the The Ten Tiny Breaths Series series | View all