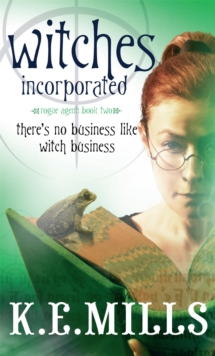 Witches Incorporated : Book 2 of the Rogue Agent Novels
Paperback
Description
It's a case of espionage, skullduggery and serious unpleasantness. And it's also Gerald's first official government assignment.
He's hunting down a deadly saboteur, and time is quickly running out.
Old enemies and new combine forces to thwart him. Once again, innocent lives are on the line. He needs his friends. He can't do this alone.But Princess Melissande and Reg have troubles of their own.
With the help of Monk Markham's brilliant, beautiful sister, they've opened a one-stop-shop witching locum agency, where magical problems are solved for a price.
Problem is, the girls are struggling to keep the business afloat.
Things are looking grim for Witches Incorporated - and that's before they accidentally cross paths with Gerald's saboteur.Suddenly everybody's lives are on the line and Gerald realises, too late, that there's a reason government agents aren't supposed to have friends ...
Information
Format: Paperback
Pages: 496 pages
Publisher: Little, Brown Book Group
Publication Date: 01/06/2009
Category: Fantasy
ISBN: 9781841497280
Free Home Delivery
on all orders
Pick up orders
from local bookshops
Reviews
Showing 1 - 2 of 2 reviews.
Review by readermom
16/06/2015
This is a sequel to The Apprentice Wizard which I liked. This one was good too, but in an odd way. I was in the mood for a light book, which this was, sort of. The style and dialogue and even the plot tends to be light, but the reactions of the characters is not. It is like watching James Bond and then having all the spies agonize over the killing. It throws you out of the story and makes you see that all the violence is bad and a normal person couldn't jump into being a spy without some deep soul searching and regrets. It was handled well, not over the top and preachy, nor tear laden and melodramatic, just sincere.So here we have a light spy/fantasy book with some deep morality issues. I can't decide if I liked the book because of this, or in spite of it.I like the setting as well. Fantasy books have really started to branch out in the last few years, no more strictly medieval castles. This one is set in a sort of Edwardian period, lots of rules yet an awareness that maybe the rules should be changed. This time was the real era of suffragettes and progressive government as well as lots of new scientific discoveries. Mills got the feel of the era down well, and then put magic in.I am interested in where the series is going and what she will do with the characters now she has them all working together.
Review by lewispike
16/06/2015
This book is less fun than its predecessor as the drive for emancipation of women (something I agree with) takes over to the point it becomes strident. There is, most definitely, a way to go on this issue, more in some countries than others, and using fiction to highlight it and hopefully induce change is a worthwhile thing, but there has to be a balance point.This book, for my mind and my culture, goes that bit too far.There is, under the polemic, a fun story. It's not particularly a good one; in fact many of the so-called twists are rather predictable, but it is quite good fun and there are a few lovely bits that make it worth reading overall.
Also in the Rogue Agent series | View all