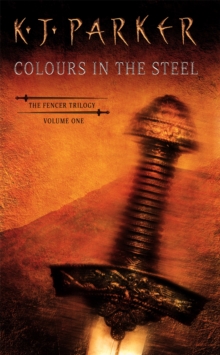 Colours In The Steel : Fencer Trilogy volume 1
Paperback
Description
Perimadeia: the famed Triple City and the mercantile capital of the known world.
Behind its allegedly impregnable walls, everything is available.
Including information which will allow its enemies to plan one of the most remarkable sieges of all time.
The man called upon to defend Perimadeia is Bardas Loredan, a fencer-at-law, weary of his work and of the world.
For Loredan is one of the surviving members of Maxen's Pitchfork, the legendary band of soldiers who waged war on the people of the plains for many years, rendering an attack on the city impossible.
Until now...But Loredan has problems of its own. In a city where court cases are settled by lawyers disputing with swords not words, enemies are all too easily made. And by winning one particular case, Loredan has unwittingly become the focus of a misplaced curse from a young woman bent on revenge.
The last thing he needs is to be made responsible for saving a city.
Information
Format: Paperback
Pages: 512 pages
Publisher: Little, Brown Book Group
Publication Date: 25/03/1999
Category: Fantasy
ISBN: 9781857236101
Free Home Delivery
on all orders
Pick up orders
from local bookshops
Reviews
Showing 1 - 2 of 2 reviews.
Review by rivkat
16/06/2015
So, when I read my first Parker book, I immediately ordered the rest, because I was so entranced by the clockwork intricacy of the plotting. Then I read the rest of that trilogy (the Engineer trilogy), and another book besides, and then the other Parker trilogy sat on my shelf for years. I spent most of a semester trying to get through this one, and it's time to admit defeat (50 pages from the end). Parker has one story to tell, which she sets in a fantasy world—fantasy in that there are resonances with cultures we have, but not exact correspondences; whether magic actually exists is always left rather unclear. It's really well done, but so grim and joyless that it's like a really well done root canal. Either fate or human folly, if they can be disentangled, always sweep the characters towards depressing outcomes; they know they're causing awful damage but do it anyway, disclaiming responsibility; all the intricacy of the plotting is just an engine of pain stamping out people who will do the same thing to someone else fifty years on in the name of revenge or justice or greed or even just by accident. It's mechanistic, but not in a steampunk way; deterministic, but not in a way that lets anyone off the hook for their choices, so you get the worst of both worlds; and just profoundly depressing and anti-humanistic. Maybe it is my nature, but I don't need to devote any more time to this view of the world.
Review by JenneB
16/06/2015
Such a frustrating story, because you want both sides to win, and you know they can't. And yet so very enjoyable. <br/><br/>It's interesting, I've basically read Parker's 3 trilogies in reverse order of when they were published, and there are so many themes in this book that s/he apparently liked so much that she wanted to explore them at much greater length in the others. (the biggest one being, of course, the effects of more sophisticated technology on medieval-ish societies, but also: blacksmithing, swordfighting, military camaraderie, revenge, past misdeeds coming back to haunt you in ironic ways, bossy women, the invention of explosives, calmly competent engineers, mysterious not-really magic, etc.)<br/><br/>And bonus: this one actually passes the Bechdel Test!
Also in the Fencer Trilogy series