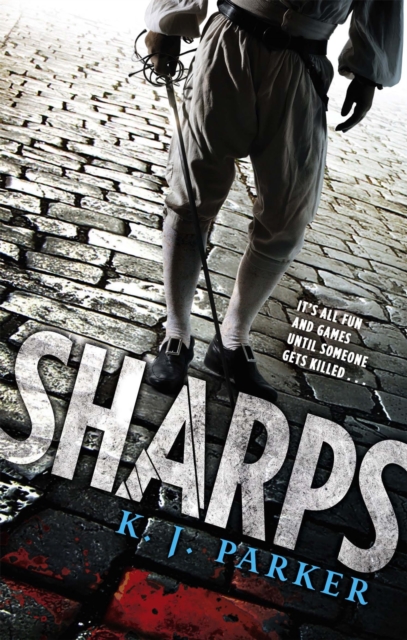 Sharps
Paperback / softback
Description
'[Sharps] is a ripping good adventure yarn, laced with frequent barbed witticisms and ace sword fighting...
Parker's settings and characterizations never miss a beat, and the intricate political interplay of intrigue is suspenseful almost to the last page.' - Publishers Weekly'This is another splendid offering from K.J.
Parker, the (pseudonymous) British fantasist who seems incapable of writing in anything but top form.' - LocusFor the first time in nearly forty years, an uneasy truce has been called between two neighbouring kingdoms.
The war has been long and brutal, fought over the usual things: resources, land, money . . . Now, there is a chance for peace. Diplomatic talks have begun and with them, the games of skill and chance.
Two teams of fencers represent their nations at this pivotal moment. When the future of the world lies balanced on the point of a rapier, one misstep could mean ruin for all. Books by K.J. Parker:Fencer TrilogyThe Colours in the SteelThe Belly of the BowThe Proof HouseScavenger TrilogyShadowPatternMemoryEngineer TrilogyDevices and DesiresEvil for EvilThe EscapementSaloninusBlue and GoldThe Devil You KnowTwo of SwordsThe Two of Swords: Part 1The Two of Swords: Part 2The Two of Swords: Part 3NovelsThe CompanyThe Folding KnifeThe HammerSharpsSavagesSixteen Ways to Defend a Walled CityMy Beautiful Life
Information
Format:Paperback / softback
Pages:576 pages
Publisher:Little, Brown Book Group
Publication Date:05/07/2012
Category:
ISBN:9781841499260
Information
Format:Paperback / softback
Pages:576 pages
Publisher:Little, Brown Book Group
Publication Date:05/07/2012
Category:
ISBN:9781841499260