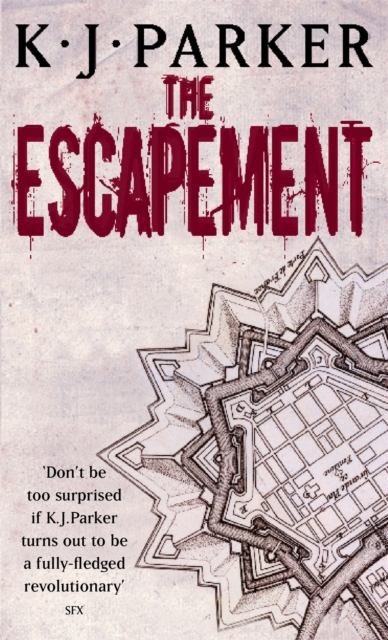 The Escapement : The Engineer Trilogy: Book Three
Paperback / softback
Description
'When so many fantasy sagas are tired, warmed-over affairs, a writer like K.J.
Parker is more of a hurricane than a breath of fresh air.' - Dreamwatch'This is grown-up fantasy blessed with humour, intelligence and... panache. A bravura display of intricate storytelling and artfully-doled-out revelations.' - SFXCondemned to death, the engineer Ziani Vaatzes escaped from Mezentia.
His implacable determination to return home led him to contrive an intricate plan to bring down the Republic, a plan which require a war.
He regrets the deaths. But he had no choice. Duke Valens dragged his people into the war to save the life of one woman.
Then he killed her husband. Now, allied to the nomadic barbarians who have the manpower to defeat Mezentia, the Duke regrets the evil he's done.
But he had no choice. Secretary Psellus never wanted to rule the Republic, or fight a desperate siege for its survival.
Trying to make sense of how it all happened, he finds himself compelled to investigate the circumstances of Vaatzes' crime.
He is terrified of what he might find out, but he has no choice. The machine has been built. All that remains is to set it in motion. The stunning conclusion to The Engineer Trilogy - a fast-moving mix of politics, action and intelligent world-building - that continues to push the boundaries of fantasy fiction. Books by K.J. Parker:Fencer TrilogyThe Colours in the SteelThe Belly of the BowThe Proof HouseScavenger TrilogyShadowPatternMemoryEngineer TrilogyDevices and DesiresEvil for EvilThe EscapementSaloninusBlue and GoldThe Devil You KnowTwo of SwordsThe Two of Swords: Part 1The Two of Swords: Part 2The Two of Swords: Part 3NovelsThe CompanyThe Folding KnifeThe HammerSharpsSavagesSixteen Ways to Defend a Walled CityMy Beautiful Life
Information
Format:Paperback / softback
Pages:576 pages
Publisher:Little, Brown Book Group
Publication Date:04/09/2008
Category:
ISBN:9781841492803
Information
Format:Paperback / softback
Pages:576 pages
Publisher:Little, Brown Book Group
Publication Date:04/09/2008
Category:
ISBN:9781841492803
Also in the Engineer Trilogy series | View all