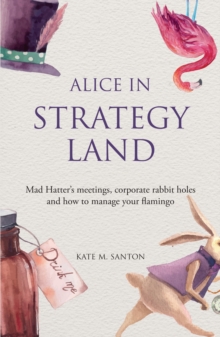 Alice in Strategy Land : Mad Hatter's Meetings, Corporate Rabbit Holes and How to Manage Your Flamingo
Paperback
Description
Falling down the corporate rabbit hole can be good for your career. In today's rapidly changing business world it's difficult to know how to compete.
How do we innovate; what strategies should we pursue in order to stand out from our rivals; just how can one keep up - let alone get ahead - in this maddeningly volatile environment?
It turns out that the larger-than-life characters, arbitrary rules and nonsensical situations of Lewis Carroll's Alice in Wonderland and Through the Looking-Glass can help us navigate the new era of business. Carroll's books are a window onto today's business world.
They teach us that rules are invented by those in charge to suit a situation, that authority can be questioned and that white rabbits often wear waistcoats.
If you regularly take part in meetings, the Mad Hatter's tea party - messy, seemingly eternal and completely pointless - might seem all too familiar.
In Alice in strategy land readers will discover:* How to manage the unexpected, with the help of Alice, a flamingo and a hedgehog;* Ways to speed up time, using the wisdom of the Hatter;* How to avoid running so hard just to stand still, with the Red Queen's assistance;* Why the White Knight can help them to focus on what's important. Thinking outside the box is no longer sufficient. Alice in Strategy Land shows managers and managed alike how to turn Carroll's surreal imagination to their advantage.
Free Home Delivery
on all orders
Pick up orders
from local bookshops