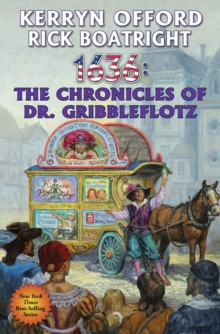 1636: the Chronicles of Dr. Gribbleflotz
Book
Description
Phillip Theophrastus Gribbleflotz, the worlds greatest alchemist and a great-grandson of Paracelsusand a Bombast on his mothers sidewas a man history had forgotten.
But when the town of Grantville was transported by a cosmic accident from modern West Virginia to central Germany in the early seventeenth century, he got a second chance at fame and fortune.
The worlds greatest alchemist does not make household goods.
But with suitable enticements Gribbleflotz is persuaded to make baking soda and then baking powder so that the time-displaced Americans can continue to enjoy such culinary classics as biscuits andgravy.
Applying his superb
Information
Format: Book
Pages: 736 pages
Publisher: Baen
Publication Date: 08/05/2017
Category: Science fiction
ISBN: 9781481482653
Free Home Delivery
on all orders
Pick up orders
from local bookshops