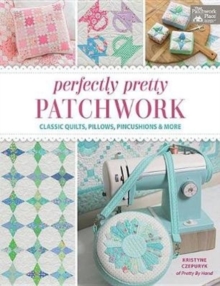 PERFECTLY PRETTY PATCHWORK
Paperback
Description
Classic Quilts Pillows Pincushions more. When it comes to classic quilt blocks, think beyond the quiltSew timeless blocks into beautiful quilts then feature the sameblock often in a different size in a variety of pretty accents andaccessories.
Eight quilts include a sunny mini-quilt, a decorativethrow, a Dresden-inspired wall quilt, and a Flying Geese babyquilt.
Eight sewing projects include a happy tote, a trio ofpincushions, a circular purse, and a petite pouch.Packed with tips for quiltmakers who are new to sewingdimensional items, this collection will inspire stitchers to discoverwhat their pair of hands can truly do.
Information
Format: Paperback
Pages: 80 pages
Publisher: ROUNDHOUSE PUBLISHING GROUP
Publication Date: 01/07/2020
ISBN: 9781683560258
Also by KRISTYNE CZEPURYK