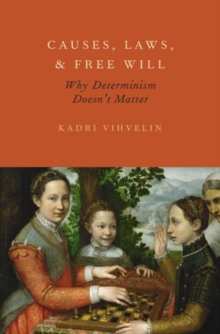 Causes, Laws, and Free Will : Why Determinism Doesn't Matter
Hardback
Description
Common sense tells us that we are morally responsible for our actions only if we have free will - and that we have free will only if we are able to choose among alternative actions. Common sense tells us that we do have free will and are morally responsible for many of the things we do.
Common sense also tells us that we are objects in the natural world, governed by its laws. Nevertheless, many contemporary philosophers deny that we have free will or that free willis a necessary prerequisite for moral responsibility. Some hold that we are morally responsible only if we are somehow exempt from the laws of nature.
Causes, Laws, and Free Will defends a thesis that has almost disappeared from the contemporary philosophical landscape by arguing that thisphilosophical flight from common sense is a mistake. We have free will even if everything we do is predictable given the laws of nature and the past, and we are morally responsible whatever the laws of nature turn out to be.
The impulses that tempt us into thinking that determinism robs us of free will spring from mistakes - mistakes about the metaphysics of causation, mistakes about the nature of laws, and mistakes about the logic of counterfactuals.
Information
Format: Hardback
Pages: 296 pages
Publisher: Oxford University Press Inc
Publication Date: 25/07/2013
ISBN: 9780199795185
Free Home Delivery
on all orders
Pick up orders
from local bookshops