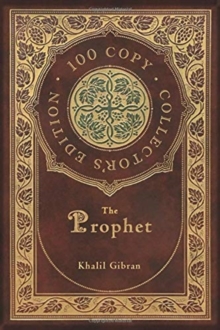 The Prophet (100 Copy Collector's Edition)
Hardback
Description
The prophet has lived in the city of Orphalese for 12 years and is about to board a ship which will carry him home. He is stopped by a group of people, with whom he discusses topics such as life and the human condition. The prophet advises on many topics including love, marriage, children, giving, work, laws, freedom, prayer, pleasure, religion, and death. The prophet leaves the people of Orphalese with knowledge that they can use to achieve fulfillment in everyday life.
The Prophet is a book of 26 prose poetry fables written in English by the Lebanese-American poet and writer Kahlil Gibran. It is Gibran's best known work. The Prophet has been translated into more than 108 different languages, making it one of the most translated books in history, and it has never been out of print.
This cloth-bound book includes a Victorian inspired dust-jacket, and is limited to 100 copies.
Information
Format:Hardback
Pages:116 pages, Illustrations
Publisher:Royal Classics
Publication Date:12/11/2019
Category:
ISBN:9781772269291