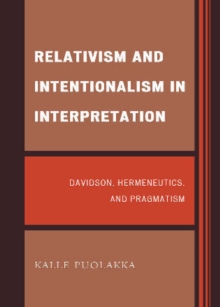 Relativism and Intentionalism in Interpretation : Davidson, Hermeneutics, and Pragmatism
Hardback
Description
The question of the relativity of interpretations and the relevance of the author's intentions for interpretation has been at the center of controversy for the past century in different philosophical traditions, but there has been very little effort to examine the different ways this question has been addressed in contemporary philosophy within the space of a single book.
Relativism and Intentionalism in Interpretation. Davidson, Hermeneutics, and Pragmatism brings diverse philosophical viewpoints to bear on these issues, addressing them through analytic philosophy, hermeneutics, and pragmatism.
Kalle Puolakka develops a view of interpretation drawing on Donald Davidson's late philosophy of language and mind defending the role of authorial intentions against criticisms intentionalist views have received particularly in hermeneutics and pragmatism.
In addition to relativism and intentionalism, the book discusses such issues as the role of imagination and aesthetic experience in interpretation, and it presents a thorough critique of hermeneutic conceptions of interpretation which emphasize the essential historical nature of our understanding.
Relativism and Intentionalism in Interpretation shows how it is possible to combine a pluralistic attitude towards art without resurrecting the role of the author's intentions in interpretation.
Information
Format:Hardback
Pages:200 pages
Publisher:Lexington Books
Publication Date:07/07/2011
Category:
ISBN:9780739150801