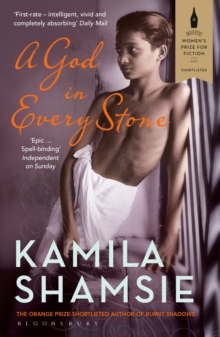 A God in Every Stone : Shortlisted for the Baileys Women's Prize for Fiction
Paperback
Description
Summer, 1914. Young Englishwoman Vivian Rose Spencer is in an ancient land, about to discover the Temple of Zeus, the call of adventure, and love.
Thousands of miles away a twenty-year-old Pathan, Qayyum Gul, is learning about brotherhood and loyalty in the British Indian army.
Summer, 1915. Viv has been separated from the man she loves; Qayyum has lost an eye at Ypres.
They meet on a train to Peshawar, unaware that a connection is about to be forged between their lives - one that will reveal itself fifteen years later when anti-colonial resistance, an ancient artefact and a mysterious woman will bring them together again.
Information
Format: Paperback
Pages: 400 pages
Publisher: Bloomsbury Publishing PLC
Publication Date: 02/03/2015
ISBN: 9781408847237
Free Home Delivery
on all orders
Pick up orders
from local bookshops
Reviews
Showing 1 - 2 of 2 reviews.
Review by rainpebble
27/08/2015
A God in Every Stone by Kamila Shamsie; (5*)Stretching from the ancient Persian Empire to the waning days of the British Empire, this novel has an enormous span that immediately captured this readerIt begins on the eve of World War I, with Vivian Rose, a young British archaeologist on a dig in Turkey with an old family friend, a Turkish man, Bey. He is searching for an artifact from the earliest days of the Persian Empire, a silver circlet once belonging to an early Persian king, which Alexander the Great himself supposedly carried to India. Vivian falls in love with both man and profession and becomes smitten with every part of this foreign world.As the war overtakes such civilized practices as archaeology, Vivian returns to England never to see Bey again. Years later she travels east again, this time to the Peshawar Valley as an independent new woman but inside she is still on a quest for the circlet that had so obsessed the man she had loved. Her vision is still deeply bound to the landscape and the light of India.On her long train ride through this fabled territory she encounters Qayyum Gul, a young Muslim man from Peshawar. He is a soldier of the English Crown, who lost an eye in combat at Ypres. She was the nurse who gave him a cloth in which to keep his glass eye but they do not remember one another from those days.Both Qayyum and his mountainous home become part of Vivian's life as does his younger brother Najeeb.Najeeb becomes an archaeologist and one of the directors of a small museum in Peshawar. In the spirit of E.M. Forster and his own attempt at fusing east and west in A Passage to India, Shamsie portrays Najeeb as the successor to the Englishwoman's vision of the region. The past has its glories and its beautiful images.Meanwhile, in the novel's present-day Peshawar, tension between the occupying English and the militant Indians, Hindu and Muslim, grows more menacing by the day. But even as disaster looms, so does our fascination with these characters. — the possibility that British forces may massacre peacefully demonstrating civilians — seems imminent, our empathy for the Gul brothers and their civilized British friend grows. As does the novel's breadth.From the far distant past of the Persian Empire to the British massacre in Peshawar, we can see the outline of that ancient circlet boldly portrayed, representing a bond between times and peoples that brings to mind Forster's famous edict about linking people, places, histories: "Only connect." In this way, Najeeb looks at the circlet and sees "a greeting across centuries."I highly recommend this novel to anyone who, as I do, has a fascination with the time of the Raj or Indian history. I love the storyline, the way it was written (though if it had one falldown that would be it), the characters and most everything about it. I will be reading more of her work.
Review by bodachliath
27/08/2015
This is one of the best books I have read this year. A cleverly constructed multi-threaded historical novel, largely set in the city of Peshawar - the central personal stories are gripping, and the novel explores deeper themes of empires and their legacies, the nature of archaelogy and the experiences of Asians who served the British in Europe during the First World War. Moving, lyrical and highly impressive.