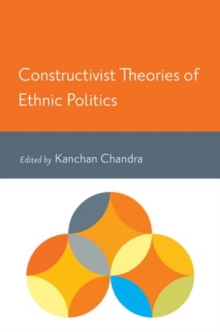 Constructivist Theories of Ethnic Politics
Paperback / softback
Description
Most research on the effect of ethnicity on economic and political outcomes is driven by the "primordialist " assumption that ethnic identities are fixed.
But "constructivist " research across the social sciences and humanities tells us that ethnic identities change over time, and are often a product of the very political and economic phenomena that they are used to explain. Constructivist Theories of Ethnic Politics is a first cut at rebuilding theories of the relationship between ethnicity, politics and economics on a fortified constructivist foundation.
It proposes a new conceptual framework for thinking about ethnic identity.
It uses this framework to synthesize constructivist arguments into a set of propositions about how and why ethnic identities change. It translates this framework - and the propositions derived from it - into a new, combinatoriallanguage. And it employs these conceptual, constructivist, and combinatorial tools to theorize about the relationship between ethnicity, politics and economics using a variety of methods. The conceptual tools provided here open new avenues for theory building by representing the complexity of a constructivist world in an analytically tractable way.
The theoretical arguments challenge the bad name that ethnic diversity has acquired in social scientific literature, according to which it is associated with regimes that are less stable, less democratic, less well-governed, less peaceful and poorer than regimes in which the population is ethnically homogeneous.
Taking the possibilityof change in ethnic identity into account, this book shows, dismantles the theoretical logics linking ethnic diversity to such negative outcomes.
Indeed, ethnic diversity can sometimes serve as a benign force, strengthening rather than threatening democracy, preventing rather than producingviolence, and inhibiting rather than accelerating state collapse or secession.
Even more importantly, it defines new research agendas by changing the questions we can ask about the relationship between ethnicity, politics and economics.
Information
Format: Paperback / softback
Pages: 520 pages, 66 bw figs/9 color figs; 62 tables
Publisher: Oxford University Press Inc
Publication Date: 08/11/2012
Category: Ethnic studies
ISBN: 9780199893171
Free Home Delivery
on all orders
Pick up orders
from local bookshops