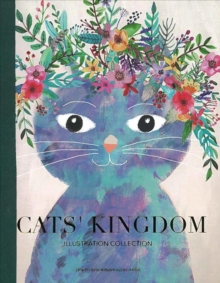 Cats' Kingdom : Illustration Collection
Paperback / softback
Description
A collection of cat illustrations from all around the world.
Here is a kingdom of cats, cute, smart, or lazy. Hand-drawn or digital, these drawings were created with different materials and techniques.
The illustrators will share with you the story behind the pictures.
A cat can be your best friend; it stays in your life and brings you moments of happiness.
A book dedicated to all enthusiastic cat-lovers. Illustrators include: Abby Wright, Agustina Paci, Aijung Kim, Aless Baylis, Amy Domingo, Angela Chiu, Atsushi Takeuchi, Azul Pineiro, Camila Picheco, David Ceasar, DENG Lin, Eszter Schall, Felis Simha, Frederico Pompeu, HAN A-In, HAN Xiao, Hana Stupica, Hanna Melin, HUANG Yipei, Ido Back, Indi Maverick, Irina Belskaya, Ivan Pawluk, Kiara Tan, Jasmijn Evans, Jesus E.Guedez F., Joao Lauro Fonte, Jolene Low, Kaila Eunhye Seo, Kaori Seno, Kate Huang, Katrin Wiehle, Kenneth Leung, Liyiting, Lucy Koo, Maddalena Gerli, Meo.
G, Mia Charro, Miguel Bustos, Miss Cyndia, Motohiro Aoyagi, Ola Gofshtein, Olga Mustecaplioglu, Peihsiu Chen, Pepe Rodruguez (a.k.a. ppmid), Philippe de Kemmeter, Rob Hodgson, Roberto Maki, Roni Yoffe, Ruta Dumalakatie, Sara Olmos, Shana Patry, Simon Vaeth, Sophie Corrigan, Stef Rymenants, Susie Esse, Tanja Stevanovic, Tatjana Bril, Toro Elmar, Valeria Susloparova, Vier Yeh, Yohan Sacre.
Information
Format: Paperback / softback
Pages: 256 pages, Colour Illustrations
Publisher: Design Media Publishing (UK) Limited
Publication Date: 18/05/2017
Category: Painting & paintings
ISBN: 9781910596791
Free Home Delivery
on all orders
Pick up orders
from local bookshops