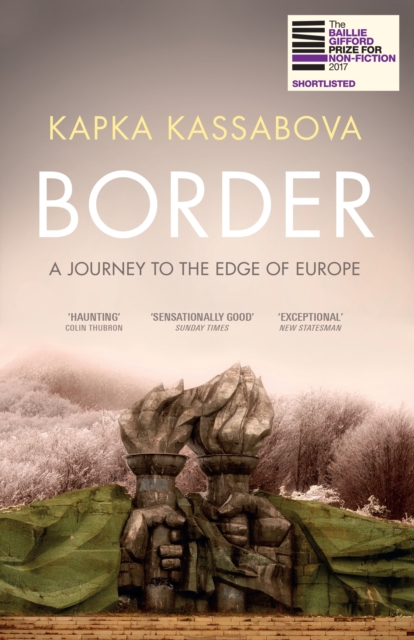 Border : A Journey to the Edge of Europe
Paperback / softback
Description
Winner of the the British Academy Nayef Al-Rodhan Prize for Global Cultural Understanding 2018Winner of the Stanford Dolman Travel Book of the Year 2017Winner of the 2017 Highland Book PrizeWinner of the Saltire Society Book of the Year 2017Shortlisted for the RSL Ondaatje Prize 2018 Shortlisted for the Baillie Gifford Prize 2017 Shortlisted for the Duff Cooper Prize 2017 Shortlisted for the Bread and Roses Award 2018Shortlisted for the Gordon Burn Prize 2017Shortlisted for the National Circle of Critics Award 2017When Kapka Kassabova was a child, the borderzone between Bulgaria, Turkey and Greece was rumoured to be an easier crossing point into the West than the Berlin Wall so it swarmed with soldiers, spies and fugitives.
On holidays close to the border on the Black Sea coast, she remembers playing on the beach, only miles from where an electrified fence bristled, its barbs pointing inwards toward the enemy: the holiday-makers, the potential escapees. Today, this densely forested landscape is no longer heavily militarised, but it is scarred by its past.
In Border, Kapka Kassabova sets out on a journey to meet the people of this triple border - Bulgarians, Turks, Greeks, and the latest wave of refugees fleeing conflict further afield.
She discovers a region that has been shaped by the successive forces of history: by its own past migration crises, by communism, by two World wars, by the Ottoman Empire, and - older still - by the ancient legacy of myths and legends.
As Kapka Kassabova explores this enigmatic region in the company of border guards and treasure hunters, entrepreneurs and botanists, psychic healers and ritual fire-walkers, refugees and smugglers, she traces the physical and psychological borders that criss-cross its villages and mountains, and goes in search of the stories that will unlock its secrets. Border is a sharply observed portrait of a little-known corner of Europe, and a fascinating meditation on the borderlines that exist between countries, between cultures, between people, and within each of us.
Information
Format:Paperback / softback
Pages:400 pages
Publisher:Granta Books
Publication Date:01/02/2018
Category:
ISBN:9781783783205
Information
Format:Paperback / softback
Pages:400 pages
Publisher:Granta Books
Publication Date:01/02/2018
Category:
ISBN:9781783783205