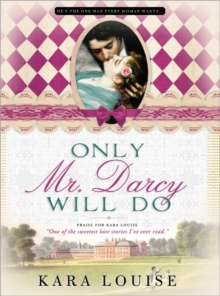 Only Mr Darcy Will Do
Paperback
Description
Successfully self-published with over 2000 copies of her books sold and fans giving her rave reviews, Kara Louise continues to build a dedicated base of readers with her warm, witty, and highly imaginative Jane Austen sequels. In this fresh and original retelling of Jane Austen's Pride and Prejudice, Mrs. Bennet's greatest fear comes to pass-Longbourn is entailed to Mr. Collins. Elizabeth finds work as a governess in London, widening the social divide between her and Mr. Darcy and making it more difficult than ever for them to find their way to each other...
Information
Format: Paperback
Pages: 368 pages
Publisher: Sourcebooks, Inc
Publication Date: 01/03/2011
Category: Historical romance
ISBN: 9781402241031
Free Home Delivery
on all orders
Pick up orders
from local bookshops
Reviews
Showing 1 - 5 of 9 reviews.
Previous | Next
Review by ReviewsbyMolly
16/06/2015
I absolutely LOVED this book! It was a first of it's kind for me. Can you believe it? I have NEVER read a Jane Austen novel (though I have two sitting on my shelves waiting to be read!), nor have I read any of these sequels, but after reading Kara's book, I am hooked as a fan for life! She has a way with her words to make the story stand out. It engulfs the read, and the love and romance, and humorous moments cocoon the reader like a warm, fuzzy blanket on a relaxing night. Elizabeth Bennett and Mr. Darcy are a couple like no other. The sparks are always there, even when they don't want to acknowledge them for fear of what gossip mill will run. Elizabeth turned downed Mr. Darcy's proposal a year ago, and now another woman is interested in the wonderful, handsome young Mr. Darcy. Can Miss Bennett let him go? Can someone of her status win back his heart? Through laughs, love and persistence, can Mr. Darcy and Miss Bennett realize that only the other will do for their love and happily ever after? I loved this sweet, romantic historical novel. I could hear all the accents and see all the scenes come to life before me. I walked along side of Miss Bennett and fell in love with Mr. Darcy, too! If you are an Austen fan, then you are SURE to love this story. The skill of Kara Louise, the lovable characters and the laughs make up a fantastic 5 star novel. I highly recommend this book to all as one that should be read hundreds of times over!
Review by blodeuedd
16/06/2015
My thoughts:What put this JA variation apart then? Let me tell you. As always we have Mr Darcy and Lizzy. But in this one her father passed away and they had to move out and now Lizzy is a governess. Her mum and siblings live in Meryton, but Jane lives in London at the Gardiner's. Enter Mr Darcy, and now Lizzy is even lower in society's eyes.The drama in this book is all thanks to Rosalyn. Lizzy works for the Willstone family and Rosalyn is the sister of the Mrs Willstone. At first I liked Rosalyn, she confesses to having a crush on Mr Darcy and who could blame her. But then I read a bit more and I go all "Back down woman!" Mr Darcy belongs to Lizzy. Rosalyn assumes too much, wants too much and is the kind of woman who is all wrong for Darcy. It's silly, but yes it had me fearing that the HEA I wanted would go wrong somehow.It was a variation that got better and better. I wanted them together as always, and I love watching them fall in love for real. It was a good what if story.Conclusion:How many can I read? The answer is a lot, because each book has some twist to the story. And the love that grows between Lizzy and Darcy always triumphs.Ps. And Wickham is a scoundrel as always.Rating:Enjoyed it
Review by mt256
16/06/2015
I absolutely adore Jane Austen sequels and variations. When I received this book in the mail I squeeed while jumping up and down. My husband asked me what was the matter and I told him "It's Darcy and Elizabeth". He just rolled his eyes and said he didn't understand how I could read the same story over and over again. I had to set him straight. This is an entirely different story. Yes, it has Darcy and Elizabeth in it but the journey to happily ever after is completely different. That's what I love about variations. I love seeing how the authors envision these beloved characters and the alternative direction they take this well known story. Only Mr. Darcy Will Do is a fantastic variation. I found my self devouring this book page after page. This was a 'stay up all night to read' book. Kara Louise takes Darcy and Elizabeth and sets them on a different path. After Mr. Darcy's disastrous proposal, Elizabeth gets the tragic news that Mr. Bennett has died leaving his estate to Mr. Collins. Elizabeth becomes a governess with a respectable family. She adores her pupil and is within walking distance of her most beloved sister, Jane. Elizabeth and Jane although content are a little disheartened about their present circumstances. They carry on as best they can. Elizabeth forms a friendship with her employers sister, Rosalyn. During their friendship it is discovered the Rosalyn has her sites set on none other than Mr. Darcy. I really like the direction that Kara Louise took this story. I really appreciated how she kept the personalties of Darcy and Elizabeth in tact. I was sorry that Mr. Bennett had to die because he's one of my favorite characters but it is necessary for the storyline. Kara Louise introduces some new characters into the story. Rosalyn, who has her eye on Mr. Darcy is a great character. I love seeing her transform through out the book. Mr. Hamilton is also a great new character. He doesn't think much before he speaks but he added some comedy to this novel. The author kept many of the original characters in this book but she gives an exciting twist to their stories as well. Of course the main focus of the book is Mr. Darcy and Elizabeth. I loved seeing their story unfold bit by bit. Kara Louise gives us a glimpse of the softer side of Mr. Darcy. The banter between the two is great. I fell in-love with Darcy and Elizabeth all over again. I thought the story was fresh and deeply romantic. This is a book that I will definitely read again.
Review by dasuzuki
16/06/2015
This is the second re-telling of Pride and Prejudice I've read from Kara Louise and she is quickly becoming one of my go-to author in this genre. I really enjoyed Darcy's Voyage, the first book from Kara Louise I read, but this one is probably my favorite of the two. She has such a delicate hand with the way she writes the characters of Lizzie and Mr. Darcy that keeps them true to the original characters. Pride and Prejudice is one of my all time most beloved books so it's really important to me that their characters are not butchered in a a re-write of the story.If you have read Pride and Prejudice you may have had several of those what if thoughts. Louise takes the what if Lizzie hadn't forgiven Darcy even after the letter he writes to her addressing her accusations, if Darcy doesn't send Mr. Bingley back to Jane and his aunt never visits Lizzie and writes an amazing story. I was saddened that Mr. Bennet has passed away since I really enjoyed his character but his passing has put Lizzie in a position where she has become a governess and socially even more unacceptable to someone of Mr. Darcy's social standing. It also puts her in Darcy's path once again and I loved watching Lizzie slowly come to realize her true feelings for Darcy. There's also a bit of humor as Lizzie comes to the conclusion that maybe Ms. Bingley wasn't initially such a bad person but rather it's an affliction that affects any woman that has the misfortune to fall for Darcy upon first meeting him. She develops this theory after seeing a woman whose company she really enjoyed and thought was of similar temperament turn into a scheming female out to snare Darcy. This book will captivate you from the beginning and although I meant to only read a few pages I ended up reading the book in one day. The ending was a little drawn out as she ties up loose ends like Lydia and Mr. Wickham, Anne de Burgh and his cousin and Jane and Mr. Bingley but still this is an addictive read that all Pride and Prejudice fans have to read.
Review by allureofbooks
16/06/2015
Check out that cover y'all. I think it is really pretty. I read the ebook version, but if I ever come across a used copy I'll have to grab it to add to my shelves. Okay, I am super wary of P&P sequels/variations. Most of them are just a sorry excuse to write sex scenes between Elizabeth and Mr. Darcy. Seriously - I can't stand those. Luckily, this is not one of them. This book asks the question: what if Mr. Bennet had died after Darcy's first proposal, before Elizabeth's trip with her aunt and uncle...before Lydia had a chance to run away with Mr. Wickham? How would things have been different? Well, lots of things are different. Many, many changes occur in this book from the original Pride and Prejudice plot. Luckily, I loved the changes! There is a ton of character development that I found incredibly insightful. I also thought it to be very respectful of the original characters. Mr. Darcy's stiff behavior is explained through a series of stories about his childhood, we get a lot more face time with his sister, and the Bennet women are put into situations where we see sides of them not available in the original work. Elizabeth is a governess for a family that initially seems to accept her as an extension of the family. She loves her charge (thank goodness there isn't any convoluted bratty child side story)...and through a series of events comes to be a visitor of the Pemberley estate with the family. There are a lot of absolutely brilliantly written scenes between her and Mr. Darcy. The tension between them was so high that it was all I could do not to skip ahead to read the final scenes. Their chemistry was absolutely dead on. I opened this book, slightly nervous, unsure of what I would find. Fast-forward a few hours (and a few ignored phone calls and a skipped meal) and I'm closing the book wishing there was a sequel! If you're a Pride and Prejudice fan unafraid to try something different than the original, absolutely pick this up. You'll love it!
Also by Kara Louise