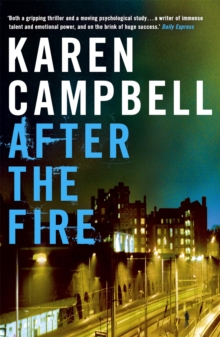 Description
Someone is dead because of Jamie. Yesterday they were alive. When we woke up yesterday and argued about how many pairs of shoes I could take, that person was alive, making coffee maybe.
Scratching her arm or yawning in the mirror...Newly qualified as a firearms officer, Jamie Worth is called to a domestic disturbance.
Events get out of hand, and he shoots and kills a teenaged girl who appears to have been unarmed.
Already wracked with guilt, he is horrified when, with the media baying for blood, he is accused of murder.
How can a cop survive in prison, when he suddenly finds himself on the wrong side of the law? And how can his wife Cath and ex-lover Anna come to terms with what has happened?
From the author of THE TWILIGHT TIME, AFTER THE FIRE is a chilling glimpse of the flipside of life as a law enforcer, written in 'stiletto-sharp prose' (The Herald) by one of the most exciting new voices in crime fiction.
Information
Format: Paperback
Pages: 480 pages
Publisher: Hodder & Stoughton General Division
Publication Date: 18/02/2010
Category: Crime & mystery
ISBN: 9780340935620
Free Home Delivery
on all orders
Pick up orders
from local bookshops
Reviews
Showing 1 - 2 of 2 reviews.
Review by scuzzy
16/06/2015
Imagine committing your life to serving justice only to have justice fail you. Jamie Worth, career cop with the Scottish Police is due to go on holiday with his wife (an ex-cop) and two kids when there is an armed call out on the other side of town. Newly qualified to respond to firearms incidents he is detailed with another young recruit to assist officers already on the scene who advise of shots fired in a poor part of town and reports of a young girl brandishing a gun. In the high tension moments that follow WOrth guns down the threat only to be shocked she was not armed at all.What ensues is a case of his comrades closing ranks to make an example of him as a public increasingly concerned by firearms incidents demand their pound of flesh and Worth and his family have their life turned upside down as one by one their friends, their colleagues, and the system they served and believed in seemingly conspires against them, and ultimately Worth is imprisoned for murder.Serving time is hard for anyone, imagine being a cop who put some of these criminals away? Going against everything he believed in civvy street, Worth must live to a new order to survive while his wife does likewise as she struggles with two kids and a community which has turned on her.But someone steps in to help. Across the Atlantic, Anna Cameron, a Scottish officer serving the UN hears of Worth's plight and comes home to investigate the investigation. There's one small issue; she's the former mistress of Jamie Worth, a fact that Worth's wife is well aware of.In a brilliantly written novel the reader is taken from the mundane to the unbelievable in the life of the police force, the normality of domestic life to the seedy underbelly of the child sex trade, and how far people will go to save their own skins, whether by fight or flight, or by altering the facts.For 400-odd pages you could not ask for a better book to read as it builds to a climax that must surely be of biblical proportions, however in the one letdown in the book, the end came to quick. I felt somewhat ripped off not having more detail on the aftermath as Worth's conviction was appealed and those who conspired against him, both in prison and in the police force, and still, a day later I feel like a chapter was forthcoming. But regardless, a great crime novel for anyone, and dare I say it, in poetically written Scottish which conjures up none other than Billy Connelly..
Review by maneekuhi
16/06/2015
"After the Fire" (AF) is the third in the Anna Cameron series about a bright, ambitious Glasgow-based police inspector. The opening of AF blew me away like no other book has in a long, long time. There is a long chapter detailing the incarceration of a former policeman for murder. The reader is exposed to every detail of the remand process; Jamie is humiliated, treatened, abused far beyond his expectations. These pages are heart-wrenching and very upsetting to read; they expose every man's fear - going to prison for a crime not committed or at least not intended. The book then jumps back several months. Jamie's wife, Cath, a former cop, is struggling with a pair of weens, 4 year old Eilidh, and 2 year old, not-quite potty trained, Dan. They are a handful, everything goes wrong at once. And you wonder - if these two present such a struggle, how will this woman cope with what's just around the corner for her on top of everything else? We are also witness to Jamie's training to become a gun-toting officer, still a rarity in the UK. There is a process for everything, from loading a gun to patching a shot up target. Then on to Jamie's first active crime scene. Chaos, and its aftermath. And where is heroine Anna all this time? In NYC, in training and evaluation for a possible long term UN assignment related to human trafficking. Back to Glasgow. There's been an incident and everyone has turned on Jamie. Then there's the trial.....Well, enough o the storyline. What makes this book so special is that everyone of these scenes is laid out in such exquisite detail. It is impossible not to feel yourself walking in Jamie's shoes.Campbell is an excellent author. You feel that you are in Scotland, she does the dialect so well. The prison scenes are especially engrossing, the dialog seems spot on. And yes, people in prison and on the streets scraping by do tend to use rather impolite language. Deal with it, or read some Edith Wharton instead.AF is not a perfect book, even though I've scored it a "5". I think the climax is a bit melodramatic, and I did not at all appreciate the "voice" of a future victim running on throughout the story. Nevertheless I recommend this book highly. It can be read as a stand-alone.Instead of the usual 1-2-3 order, I read these books in a 3-1-2 order, and I do not recommend that at all for this series. My rationale for starting with the 3rd, 4th or even 5th book in a series is to give the author time to develop the characters and hone her/his writing and story telling skills a bit. Sometimes it works, sometimes it doesn't. All three books are very well written, but I had a number of issues with the third book. I found the first one to be a good deal better, and needless to say book #2 is exceptional. Enjoy!