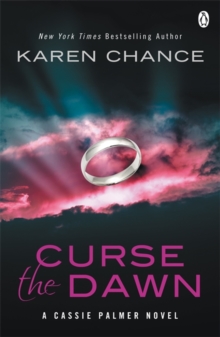 Description
Cassie Palmer, the world's chief clairvoyant, just can't seem to stay away from trouble.
After trying to come to an agreement with the Silver Circle - the magical organisation that's been trying to kill her for years - she finds herself kidnapped by one of its members and swept away in the ley line system, a series of magical currents that occupies the space between worlds.
Cassie manages to escape but, fearing for her safety, she decides to invest in a magical device for protection.
However, all she can afford is a statue that grants wishes ...But what Cassie doesn't realize is that the statue doesn't always grant wishes the way the wisher would like. And when she wishes for the strength to shift herself and companion Pritkin away from a dangerous fight, the statue grants the wish by switching her into Pritkin's body and him into hers. And that's when the real trouble starts ...
Information
Format: Paperback
Pages: 400 pages
Publisher: Penguin Books Ltd
Publication Date: 01/03/2009
Category: Crime & mystery
ISBN: 9780141037769
Free Home Delivery
on all orders
Pick up orders
from local bookshops
Reviews
Showing 1 - 4 of 4 reviews.
Review by enzu-chan
16/06/2015
Unfortunately the cover is the only remarkable feature of this book. In a nut shell, it has no plot and the whole book consists merely of fillers, unbelievably silly and often irrelevant dialogues, lot of brand names and references to various books, movies and so called celebrities that the author assumes her readers know.I guess this is the beginning of the end!
Review by lewispike
16/06/2015
For a long time I thought this would be a five star book - the action is engaging, suitably fast, there's a nice balance between combat, intrigue, chase scenes and burgeoning romance scenes (that avoid spilling into the erotic somehow). Although there's definitely elements of things coming from all sides, each of the things that happens has been set up in the earlier books. It might appear a mess if you jump in with this book, but it was pretty much a set of disasters waiting to happen, and happen they duly did.So what lets it down? The end. The big bad gets a reveal and then there's frantic plot-filling to try and make you accept what's going on when really it reads more like an "OMG, WTF can I do to give a climactic ending after all this? Oh, I know..." and consequently it ends up rather anti-climactic instead because the confrontation I was led to expect isn't there, and the confrontation we get has no real build-up.Despite that, it's fun, and there are some hooks for future books that I will buy eagerly.
Review by wyvernfriend
16/06/2015
The cracks in the relationships between mages and vampires are starting to show and to be made more obvious and Cassie as Pythic is in the middle of it all. The politics could kill her.It's not a bad story in the genre, the body swapping was quite a lot of fun
Review by JohnFair
16/06/2015
A rather surprisingly good book - I wouldn't generally see myself as the target audience for this type of books (I'm male for starters :-)).Cassie Palmer is on the run from her lover, the Silver Circle , and the Being formerly known as Apollo. Her lover's the local vampires' chief negotiator, the Silver Circle's a group of very antsy Mages dedicated to making sure that Apollo and the rest of his pantheon don't make an unwanted return to this Plane. She's also the Pythia, supposedly dedicated to the Silver Circle's aims but having fallen out with the Circle over her choice of lover, she's desperately short of any sort of ally, never mind any that could keep her safe from the storm that's about to break over Vegas...