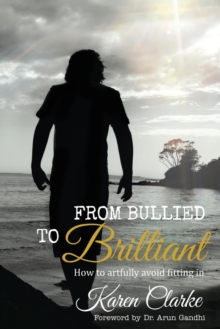 From Bullied to Brilliant : How to artfully avoid fitting in
Paperback / softback
Description
Learn how to overcome adult, workplace, familial and school bullying.

The foreword to this extraordinary life-changing book has been written by Dr. Arun Gandhi, grandson of the great Mahatma Gandhi. 'From Bullied to Brilliant' is not only a resource tool for those who feel bullied, intimidated, diminished or lacking in personal power but equally for those who have a tendency to bully or intimidate and are seeking a calmer and less painful path.

Using the guiding principals of the Great Mahatma, Karen looks at bullying in a refreshing and at times, confronting manner. 'From Bullied to Brilliant' is a guidebook for adults but can be used to support those wishing to help children and students through the complexities of rejection and challenging relationships.

Experiencing bullying or abusive relationships can be devastating. People who have been bullied, rejected or isolated often suffer in silence and harbour feelings of worthlessness. 'From Bullied to Brilliant' provides a radical new way to rapidly end the cycle of dominance and intimidation. Those who have experienced bullying either as 'victim' or perpetrator, will learn how to rediscover their strength and purpose and find hope and self-acceptance. Through real-life case studies as well as the author's personal reflections and professional experience, this groundbreaking book shares examples of bullying and intimidation, sheds light on how to understand the cause of bullying and importantly, how to end it.

Karen has a deep understanding of bullying and social isolation, both in her capacity as a trainer, speaker, and professional coach and, through her personal experiences of bullying. The mother of three and one of seven herself, Karen understands the pressures families face when bullying becomes an issue. 'From Bullied to Brilliant' helps adults, organisations, educators, and teenagers understand how a change in thinking and perception can end the bully-victim cycle.

The world is full of questions, perhaps our answers lie within.
Information
Format:Paperback / softback
Pages:280 pages, 20 Illustrations
Publisher:Ocean Reeve Publishing
Publication Date:25/03/2019
Category:
ISBN:9781925935035