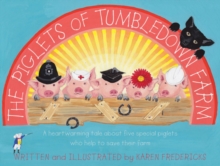 The Piglets of Tumbledown Farm : A Heartwarming Tale About Five Special Piglets Who Help to Save Their Farm
Paperback
Description
Farmer Tucker just can't manage to keep his farm clean and in good repair.
The farm is frozen in time and falling apart - but he hasn't got anyone to call on for help.
The pigs, horses and ducks take over the farmhouse because their pens and pond are dirty.
Even Sedrick the sheepdog brings the sheep into the kitchen with him and stacks them up like fluffy logs.
Farmer Tucker is, however, delighted that Sabrina his pig has had 5 perfect piglets, which he names Pixelle, Peter, Poppy, Patsy and Percy.
These special piglets come to the rescue with a clever plan to help Farmer Tucker.
They set off on the local bus, driven by Mr Ryder, to find some local help.
Starting at the library, they firstly ask District Nurse Penny to check Farmer Tucker's health.
They then find Mr Gravel the builder, and ask him to help restore the farm.
Mr Flower the gardener is found to help clear away the weeds and replant the greenhouse, with Mr Truncheon, the policeman, overseeing all of this.
Along with other helpers, they clean up and repair the farm.
Each piglet receives a special hat from the professionals which Farmer Tucker keeps safely for them, in case in the future they should need them, which they will quite soon.The Piglets of Tumbledown Farm is told by a smart white mouse called Rory, who lives in a mousehole at the farm.
He collects useful bits and pieces which he stores in his hole.
He also has two naughty cousins, who can be spotted on each page.
These white mice get up to all sorts of mischief as they follow the piglets into town...
Information
Format: Paperback
Pages: 32 pages
Publisher: Troubador Publishing
Publication Date: 28/02/2016
Category: Picture storybooks
ISBN: 9781785890505
Free Home Delivery
on all orders
Pick up orders
from local bookshops