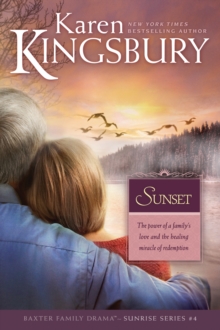 Information
Format: Paperback
Publisher: Tyndale House Publishers
Publication Date: 23/09/2008
ISBN: 9780842387583
Other Formats
Paperback from £7.45
EPUB from £5.99
eAudiobook MP3 from £15.11
Free Home Delivery
on all orders
Pick up orders
from local bookshops
Reviews
Showing 1 - 5 of 5 reviews.
Review by mrsjason
16/06/2015
All good things must come to an end and it's time to finally bring to a close the Baxter Family Drama series. It's interesting enough that the word drama is used because that's pretty much has been happening throughout the series. It seems that anything and everything that could happen to the family does happen to them. It's quite a roller coaster ride with lots of dips, turns and loops from the first book all the way to this last one. In this book, we finally see the Baxters bring everything to a close. John has decided he wants to finally move on with his life and this includes a life with Elaine. Ashley has to deal with fears of another pregnancy. Luke and his wife must come to terms with their relationship. The family comes together to help out each other in times of need.While I enjoyed the book, there just seems to be a little too much soap opera action for me. Affairs are discussed, marriages take place, pregnancies are happening, past relationships get brought up. Like I said, there's a lot of drama that happens to this family. It felt like all stories had to have happy and tidy ending but not without tear inducing moments. Now I myself never felt compelled to cry at all but I can see how some of these scenarios can force a few misty eyes while reading. I did feel though that everyone going into labor at the same time felt too coincidental to me.Overall it's a satisfying read if you've been following the family since the original series. Everything you want to happen happens, and everyone is together again for the finale However don't fear that you'll never hear from the Baxters again. Kingsbury has already released another series, The Above the Line series, where the Baxters can be seen in the background. It's like a spin off of your favorite show with cameos from the characters. The Baxters will forever live on.
Review by CoraJoanBurgett
16/06/2015
Those of us who have followed the Baxter family have come to love them as they have struggled through many of the same things that we struggle with in our own lives. Beginning with John and Elizabeth, their joy, sadnesses, and especially trust in the Lord, we've been encoured to "keep on keeping on" with our own beloved family memers, especially in prayer. Karen Kingsbury ties up all of the loose ends in the last book in the series, "Sunset." Of course, we'll all be begging for more. Hopefully :"Someday" (the title of her previous book), we'll meet up with them again. After all, we don't know if Bailey Flannagan ends up with Cody (my choice!) or Tim.
Review by smilingsally
16/06/2015
The Baxter family saga concludes with this fourth book of the Sunrise Series although the author promises to use them as background characters in future novels. This is a stand-alone novel, but if the reader has kept up through the Redemption Series and then the Firstborn Series, this book brings back all of the characters and ties up all loose ends in a satisfying conclusion. There's a good bit of repeating, but perhaps this comes with the fourteenth book in a series.Kingsbury has a way of telling a good story while allowing her readers to know the people who live in her books. Though varied personalities, they all are believable. Children's voices are especially well written such that I can see his head nod as he explains about dinosaurs or hear her plaintive wail when she wants her pacifier.Warning: read it with tissues close at hand. Any Kingsbury fan will love this one. Discussion questions are included.
Review by judyg54
16/06/2015
This is the final chapter in the sunrise series of the Baxter family. I loved the ending!! Good job Karen Kingsbury. John Baxter finally marries Elaine and must sell his house, which holds so many memories. Then Katy and Dayne are having a child, and so are Ashley and Landon! I also liked the way Bailey Flanigan has grown up and the guy she will someday, I know, end up with. What I like most about these books is the way the Lord is seen at work in all the details of these people. It is all about His redemptive work!
Review by jbarr5
16/06/2015
Sunset, Sunrise Series #4 by Karen KingsburyJohn Baxter has to sell the family home before he remarries.Other members of the family rely on their faith to get them through their lives.The Christmas play is underway and many in the family have gone through the trials in hopes to be selected.The story also follows Cody who is in the Afghanistan area fighting in the war and he ask for God's help also.Many births, weddings, deaths and everyday life experiences.Scriptures are quoted throughout the book.Spiritual and devotional: great combination.