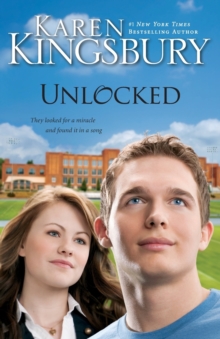 Unlocked : A Love Story
Paperback
Description
Before You Take a Stand ... You Got to Take a Chance. Holden Harris is an eighteen-year-old locked in a prison of autism.
Despite his quiet ways and quirky behaviors, Holden is very happy and socially normal-on the inside, in a private world all his own.
In reality, he is bullied at school by kids who only see that he is very different.
Ella Reynolds is part of the "in" crowd. A cheerleader and star of the high school drama production, her life seems perfect.
When she catches Holden listening to her rehearse for the school play, she is drawn to him ... the way he is drawn to the music. Then, Ella makes a dramatic discovery-she and Holden were best friends as children.
Frustrated by the way Holden is bullied, and horrified at the indifference of her peers, Ella decides to take a stand against the most privileged and popular kids at school.
Including her boyfriend, Jake. Ella believes miracles can happen in the unlikeliest places, and that just maybe an entire community might celebrate from the sidelines.
But will Holden's praying mother and the efforts of Ella and a cast of theater kids be enough to unlock the prison that contains Holden?
This time, friendship, faith, and the power of a song must be strong enough to open the doors to the miracle Holden needs.
Other Formats
Paperback from £8.95
EPUB from £4.99
Free Home Delivery
on all orders
Pick up orders
from local bookshops
Reviews
Showing 1 - 5 of 7 reviews.
Previous | Next
Another one of Karen Kingsbury greats. I always enjoy her style of writing, and for some reason, when I picked this book up, I thought I would be following a Baxter. The story of Holdon and Ella were captevating and I enjoyed the way the story of Holdon and Michael were portrayed. Makes everyone think just a little bit more when they face or interact with people who are different. Not in large ways either. A good reminder of God's grace and love for every one of us. Another great read.
Review by lauriehere
16/06/2015
"Unlocked", by Karen KingsburyBook Review:Zondervan sent me a new, free book by Karen Kingsbury, called 'Unlocked', in exchange for me to write a review about her newest 'life-changing fiction' book she has written. This book is a touching story about a young boy who was struck with Asperberger's Syndrome, (a form of Autism,) at the young age of three. As a teenager attending regular High School, he begins being drawn out of his 'locked' shell by a long, lost, young playmate whom he used to play with as a young boy. Unknowingly, they meet back up together in High School through music. She was touched with the magic of the blessings of the Lord, our God, to draw out this young man afflicted with Aspergers... To miss this book is to miss the magic our Lord has working in us in ways we never know until they happen.Laurie Carlson
Review by ReviewsbyMolly
16/06/2015
Karen Kingsbury is a seasoned author, who creates stories that her readers can relate to in someway or another. One thing about her stories and her books, is that she uses Forever in Fiction...an auction of sorts, that honors a friend or family member by placing their name as a character in her books. I think that that adds a meaning to her already depth filled stories.We saw about Unlocked in Karen Kingsbury's Take Four book as the characters in that book were producing a movie entitled Unlocked, about a young man who has Autistic. I'll be honest with you and tell you that I just wasn't sure how that would pan out in a story all it's own, like it would drag on and on and not be like her previous stories, that touch the heart. But, I was pleasantly surprised with the book when I sat down and opened the story. Karen took two very touchy subjects: bullying and Autism, and combined them in one powerful book.In Unlocked, we meet Holden Harris, an Autistic high schooler locked inside himself. Her's a tender hearted character who prays for EVERYONE, even if they are "mean jerks" who like to tease and bully him. Enter Jake Collins. He's the "mean jerk" who's intent on bullying Holden, along with his jock buddies, even his girlfriend says to stop. Enter beautiful Ella. God used Ella in Holden's life to help him....well, that's were I'll stop for fear if I go on, I'll give spoilers to the story.Through a hard lesson in bullying and through the seriousness of Autism, Kingsbury shows that God can take every situation, bad, good, or in between, and use it as a message. She also shows the power that unrelenting prayer can have on ones life. It is truly amazing. This is definitely a 4 star book that should not be missed. Oh and did I mention that you should really have lots of tissues handy? Yea, well, in case I forgot to mention it.....HAVE TISSUES!
Review by judyg54
16/06/2015
Holden Harris is a 18 year old child who is locked in his own world with autism. Despite his unusual behavior at times, he seems content and happy in his own little world; even if he is sometimes picked on by some at school.Ella Reynolds finds herself running with the "in" people at her school. But she quickly discovers how cruel they can be and begins to devote herself to the school play and helping Holden become a part of the musical "Beauty and the Beast". Ella soon discovers that her and Holden use to be playmates when they were very young, before Holden became autistic. So what happened to Holden and why did her parents suddenly stop being friends with Holden's folks? There were many facets to this story and as usual Karen Kingsbury makes these people so real you feel that the story is really true. Holden though is not the only person in the story who is "locked" in a world of his own. You have the problems kids face at school with bullying, the problem Holden's dad couldn't face regarding his son and how he dealt with it and many more folks who had to "unlock" their narrow way of thinking and open themselves up to God's possibilities in their life. This was a beautifully written story and my heart was moved having read it.
Review by HisChild
16/06/2015
Unlocked is another top-notch book from the prolific and amazing author Karen Kingsbury. It is about a teen-aged boy, Holden Harris, who is locked away in his own private world due to autism brought on by childhood immunizations. It is overwhelming to read this book as Karen delves deep into the mind of this young man. She has an ability to convey his innermost thoughts to the reader that makes it almost seem as if you are living the story and sitting in the same room with the characters. You can feel the pain and anguish of the mother and father as they strive to discover the happy, laughing little boy that once lived with them. Unlocked is not only the story of how prayer and music work together to bring Holden back to those he loves and who love him, it is the story of how others surrounding him are impacted and changed by this young man. As the power of music begins to unlock Holden's ability to communicate and react with the world around him, the reader is overwhelmed by the power of the story. As always with books by Karen Kingsbury, I recommend that you have a box of tissues nearby when you read Unlocked.I have had the experience of working around some autistic children on occasion at the school where I work. Not only has reading Unlocked helped me to better understand why autistic children react the way they do to outside stimuli, it has helped me know how to respond to these students. This book is one of the best that Karen Kingsbury has written in a long line of outstanding novels.