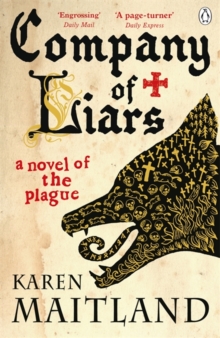 Company of Liars
Paperback
Description
The year is 1348 and the first plague victim has reached English shores.
Panic erupts around the country and a small band of travellers comes together to outrun the deadly disease, unaware that something far more deadly is - in fact - travelling with them.
The ill-assorted company - a scarred trader in holy relics, a conjurer, two musicians, a healer and a deformed storyteller - are all concealing secrets and lies. And at their heart is the strange, cold child - Narigorm - who reads the runes.
But as law and order breaks down across the country and the battle for survival becomes ever more fierce, Narigorm mercilessly compels each of her fellow travellers to reveal the truth ... and each in turn is driven to a cruel and unnatural death.
Information
Format: Paperback
Pages: 592 pages
Publisher: Penguin Books Ltd
Publication Date: 26/02/2009
Category: Historical fiction
ISBN: 9780141031910
Free Home Delivery
on all orders
Pick up orders
from local bookshops
Reviews
Showing 1 - 5 of 8 reviews.
Previous | Next
Review by john257hopper
16/06/2015
This wasn't really the historical novel I was expecting as the Black Death was really only the backdrop to what was part-fantasy and part-horror. I didn't find the explanations adequate around the motivation and techniques employed by the character who turned out to be the chief villain. A good page turner, but slightly unsatisfactory.
Review by devenish
16/06/2015
It is the year 1348 and the Plague has come to England. A disparate group of people gather together and attempt to escape to a safer part of the country. In the manner of 'The Canterbury Tales', they each tell a story as they proceed on their way. is there any truth hidden in these tales or are they just lies pure and simple.This is an exciting and on the whole,enjoyable read,but I do have a couple of quibbles. In the first place,we are told in the Historical notes,that all places mentioned are real - fair enough.But in the case of Northampton,we could in this story be absolutely anywhere. Around this date in history the Town was of great importance,with a large Castle and many other important buildings.Why not make better use of the place if you are going to mention it at all for goodness sake.Also the book ends in a perfectly satisfactory way at the conclusion of chapter 31. However there is an extra chapter - 'The Lost Chapter of Narigorm' ,which is stated as an exclusive extra chapter only available for Waterstones readers in my copy. Whether this is right or not I really don't know.However this chapter spoils the story,as it gilds the lily beyond all acceptance.
Review by fox-on-the-run
16/06/2015
I absolutely loved this book. This is the best book I have read in years and didn't want it to end!
Review by goth_marionette
16/06/2015
I found this book in a used book store in Wales and devoured it in just over a day. I enjoyed the style of writing and it kept me wanting to read just a bit more. The mix of characters was quite diverse but by the end a few of them were a bit annoying. Rarely do I finish a book and want to reread it however this is one of those rare books. I am anxious to read more from this author.
Review by AriadneAranea
16/06/2015
Set (like The owl Killers) in 14th century England, this novel charts the course of an ad hoc company of travelling people walking through the countryside, surviving as best they can, and avoiding contagion. Each has a secret, dark and dangerous, and from a gentle (some might say slow) start the pace ratchets up. You could see most of the secrets coming a mile off, but it's a definite page-turner, nevertheless. There are priests and pedlars, wolves and swans, prejudice and acceptance, faith and lies, suffering and friendship and some more things that go together, as well as some things that don't.