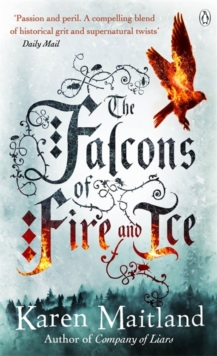 The Falcons of Fire and Ice
Paperback
Description
The Falcons of Fire and Ice by Karen Maitland, author of the hugely popular Company of Liars, is a powerful historical thriller which takes you right back to the darkest corners of the 16th century.
Intelligently written and meticulously researched, it is a real treat for all fans of CJ Sansom and Umberto Eco's The Name of the Rose.'A tour de force: dark and woven with the supernatural' Daily Mail1564, Lisbon.
The Inquisition displays its power and ruthlessly spreads fear.
Heretics are tortured and burned. Any who oppose the Church's will realize that silence is preferable to a slow and agonizing death.
Isabela, daughter of the Falconer at the Royal Court, is about to be caught in the Church's terrifying schemes.
The slaughter of two of the King's precious white falcons sees her father arrested and imprisoned.
As punishment he and his family will be killed unless the birds are replaced.Isabela, young and headstrong, decides that only she can save her father.
These birds are impossibly rare, and she will have to travel far and into strange lands to find them to clear her father's name.
It is a journey that will take her into a dark and dangerous world filled with menacing people driven by fearful beliefs.And, unfortunately for Isabela, the Church has sent a companion to ensure she never returns . . .Step back in time with Karen Maitland's Dark Tales and discover a world full of imagination in The Falcons of Fire and Ice - 'a thrilling horrible vision of the Dark Ages' Metro Karen Maitland travelled and worked in many parts of the United Kingdom before finally settling in the beautiful medieval city of Lincoln.
She is the author of The White Room, Company of Liars, The Owl Killers and The Gallows Curse.
The latter three titles are available as Penguin paperbacks.
Information
Format: Paperback
Pages: 592 pages
Publisher: Penguin Books Ltd
Publication Date: 28/03/2013
Category: Historical fiction
ISBN: 9780141047454
Free Home Delivery
on all orders
Pick up orders
from local bookshops
Reviews
Showing 1 - 2 of 2 reviews.
Review by devenish
16/06/2015
Takes place in the year 1564 in Portugal,which is in the midst of the Inquisition. The daughter of the King's Falconer is forced to attend the burning of a number of so-called Heretics. Shortly after this her father is arrested and placed in a deep and dank prison cell from where he will be taken to be burned. The reason for this is that he is blamed for the death of the Royal Falcons. The only way to avoid his fate is for his daughter to set out on a long and dangerous quest to bring back a pair of these rare birds within the year. Officials of the Inquisition send out an assassin to stop and kill her before she can achieve her aim.This is a thought-provoking book which I could not easily put down. I didn't like the ending over much though as it left too many strands unanswered and seemed somewhat rushed.
Review by john257hopper
16/06/2015
Despite its intriguing title, this is probably my least favourite of the four part-historical, part horror fantasy novels by this author. It is set later than the other three, in the 16th century, partly in Portugal, where the Inquisition is rooting out, torturing and executing all "heretics", and partly in bleak and inhospitable Iceland. The link between these seemingly unrelated countries is the falcons of the title, a Royal status symbol in Portugal that a young Portuguese girl Isabela must seek in Iceland to save the life of her father languishing in the Inquisition's dungeons (they are former Jews who have converted to Catholicism but are still being persecuted as "heretics"). As in the author's Company of Liars, Isabela and the other members of her expedition to Iceland are all pretending to be someone they're not; Isabela is pretending to be going there to join her (non-existent) husband, while one of the other members, the other main character Ricardo, is a con merchant, masquerading as a doctor, who has been sent to Iceland by the Jesuits to kill Isabela and thus thwart her mission. While there are some very descriptive passages of Icelandic scenery and some dramatic and horrific passages, I found large parts of this quite dull, especially the interludes told by the Icelandic oracle and shaman Eydis. I was rather glad when I got to the end of this novel. I found the historical note at the end about Icelandic mythology and history was rather more interesting on the whole.